Past few daes have been slacking at hm, eating bread & biscuits with milk & milo.. Hahaz.. Life without money SUCKS!!
Went to RP to tour on Mondae.. Hahaz..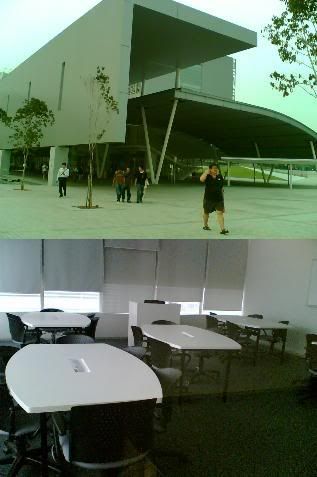 With Wei Lun..
This is Wei Lun.. ( Cropped frm him kissing his male fren) Hehez.. Very cute hor? Hahaz..
At first he still v reluctant but in the end, he still very proudly introduve mi his sch's library, cafe, foodcourt and one stop service centre.. Hahaz..
Went Orcard on Wednesday with Ade, Yang Ying & Eunice to use up my ettusias 2 x $10 voucher..
Last night, Thursday, i met Wei Lun at RP to eat steamboat at Marina South for his fren's b'dae.. Hahaz.. Such a big grp lohz.. But gt tok de, onli a few ppl.. Hahaz..
I dunno y i so clumsy loh, dropped fishball while eating, dropped straw frm cup while i pour drink from 1 cup to another, the butter splash (abit) den i pour a whole spoon of hot soup on myself and while i tried to crack an egg in the soup, the whole egg fell in.. Wahahaz..
Clumsy Cherie.. =P
After tt, i went to play pool with his frens while he continue eating, i partnered with another ger and i reli played very badly loh.. Like ez ball aso cant go in.. Sianz.. Hehez.. Muz train more liao.. Hahaz..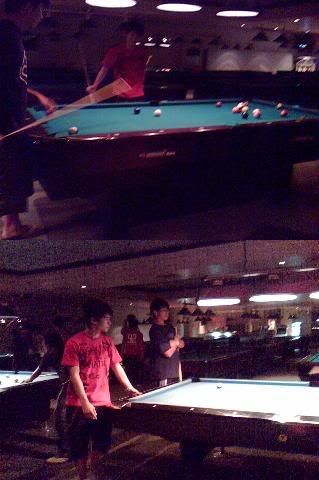 Found out tt he play pool super violent lohz.. Hahaz.. Hit so hard, the ball aso fly off loh.. Sob.. Viloent boi.. Hehez..
After tt, i went hm from Raffles station alone.. So sad right.. After tt, felt very vex den went to meet Ron to slack at abt 11.37pm wen i called him.. And coincidentally, after i called him, i found out tt he smsed mi to ask wth i wanna eat prata at 11.35pm.. Hahaz.. So qiao.. =X
He arrived at 12.04pm telling mi tt he's not reli hungry!! Angry lohz.. Den we took a bus to Admiralty Mac to slack.. Hahaz.. Tok many crap inside..
For examples like:
I saw a qns online den i ask him,
"Pizza are round, but why the pizza boxes are square?"
I thought he wouldn't ans, but he said:
"Easier to take out mahz!" Scolded mi stupid some more.. Hahaz..
Den i tell him Wei Lun doesn't play games.. Den he said..
"Why? Gt so many games nowadays.. Dota, CS, STRIP POKER.."
Instant joke sia.. Hahaz.. I tik i can luff for 2 daes.. Hehez.. Or u tik it's not funny? Hehez..
Wen i tried to sae "Normal Academic", i said, "Normal Express".. The bad of not having enuff slp.. Wahahaz..
Gt 1 Mac stuff, super noisy.. Bang the Staff room door, bang the tables against the glass panel and drop the rubbish bin metal thingy.. And she made mi cover my ears whenever she walk to the store near us.. Hahaz..
Bang Bang Bang!!!
Saw Daryl aso, see him like see ghost like tt, hahaz..
Slack until about 2+am, we went Cheers to buy After 8 chocolate and started to set off walking to Marsiling for Prata.. Hahaz.. Cos reli nth better to do le.. On the way, we tok abt boi boi and sing.. He say "Let's sing 'tong hua'!", and he started singing 'di yi ci'.. -.-"
Your fren ah??
Hahaz.. And he brought mi cut through Wdls interchange, the route which Bus took to go into interchange.. Hahaz..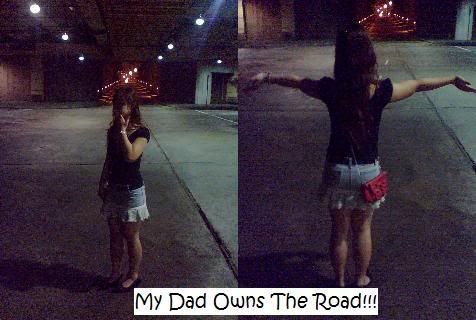 My feet reli very pain lohz.. And the journey is so long.. Haiz..
After we reached the place, it's like 5.45am.. Breakfast sia.. We dug our every dollars and cents we have to decide wat to order.. But i kept ion mind not to spend the 85 cents Wei Lun put with mi.. Hahaz..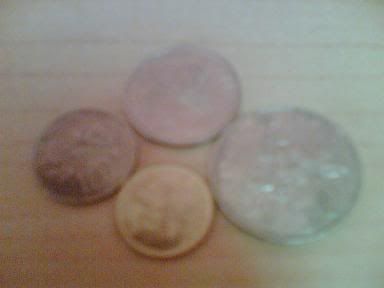 In the end we order:
2 teh bing
2 onion & egg prata
1 egg prata
1 tissue prata..
Hahaz.. Total is $8.10.. I gt back 50 cents and he gt back 45cents.. Hehez..
Finish at abt 6.40am and we took 912 to interchange, hahaz.. We feel like Secondary school students sia.. All around us are students.. But i haf no bus concession (no $ to buy) feel like it's a waste to spend $ on bus trips.. Bo bian..
Btw, todae wen mi and Wei Lun took 960 to City Hall, we didnt tap our ez-link at all, cos the machine cock up wen we board the bus and the uncle sae go sit 1st, ltr den tap, in the end, of cos we didnt tap lahz.. Hahazx.. My card left $2.80 ast tt time, lucky ah, we walked frm Marina Bay station to the steamboat place aso, and the trip helped mi to retain some money to take train hm after tt.. Hahaz..
Okok.. I reach hm at 7.10am..
And i blogged finish at NOW!!
Tataz..
More to go..
Movie on Mondae..
I wanna take pic ok? Hehez.. =D