How Should This Be Titled?
Fridae was Lantern Festival, never go ti lantern but did went to see the full moon.. Hehez..
I met up with Melvin ( my gd fren ) at 8+pm at my void deck.. Actually onli intend to acc him for dinner cos i eaten my dinner at hm, so i wore very casual and met him.. In the end, he said wanna go Causeway Pt eat long john silver.. I super pai seh loh.. Wear so ugly.. Den found out he rented his fren's car.. Hahaz.. So touched..
After we went CWP, we decided to play pool.. So he brought mi to OCC.. Hahaz.. Play until halfway, i felt hungry.. (PIGGY lohz).. So ordered chicken chop rice.. Hahaz.. Very nice loh.. Delicious.. =D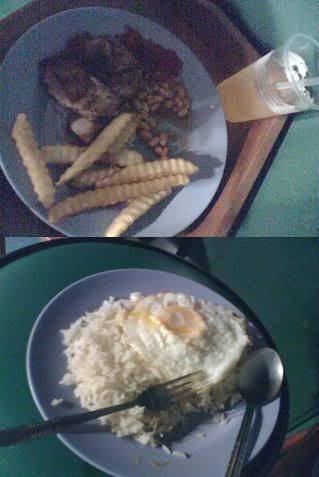 Hahaz.. I kept losing obviously.. But gd training.. Hehez.. We played until abt 12.30pm.. He drove mi to indoor stadium waterfront.. Wow.. There very very nice lo.. Next time muz bring my bf go there.. Wahahaz.. =D
He said something very dumb la..
"Welcome to stadium waterfront, from here, u can see.... nothing.."
=P I tik is funny lahz.. =X
Nice right? Nt taken by my dumb 3230 of cos.. He found it on so webby de.. Hahaz.. After tt, slack awhile and reach hm at 3.30am.. Yawn.. And i online till 4+am and woke up at 6am to iron my unifrom and prepare for my "work" at TAS on Saturday morning..
So I prepared and reached TAS at 8.40am (reporting time is 9am) Hahaz.. Changed and..
TADA!! Cherie, Anna & Mei Yan..
Best pic out of so many, cos this pic makes my pimples the least obvious.. Hahaz..
Actually we are helping to serve the guests tt came to taste the 3 course meal tt Chef Jason Low and his team haf prepared to take part in a competition in Novemeber.. Hahaz..
Before the thing starts at abt 12pm, we helped to set up the place and were complaining of our hungriness.. Hehez.. So the Chefs prepared some food for us.. Hehez..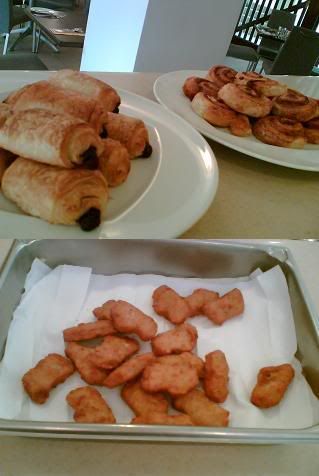 So sweet right? Very nice food! Hehez.. Thanks Chef!! Danny I think.. Hehez..
After tt, i was assigned to do Bar.. Hahaz.. Pour orange juice, coke, make coffee and tea is my job.. I aso used the dishwasher to clean the cups and glasses.. Hehez..
During the preparation, Dearie foung her most suitable tool for eyebrow trimming.. Hahaz.. Someone pls tell mi wat is it!! Hehez.. Or else she wil trim them with it le! =X
Mei Yan and I was resting on chairs before the thing starts and dumb Dearie did this and was very proud of it.. Hehez..
We finished everything by 3pm and were serve the 3 course meal!!

My fav tokay taste so sweet yest and i kept drinking Dearie's orange juice.. Hahaz.. When I eat my lamb, I gulped dw my Tokay and poured Shiraz (14%) in.. Wow.. It tasted so much stronger than my 18% Tokay..
Hahaz.. And i acted drunk.. I very dumb.. Went to dipped the lamb with ice cream (dessert) tiking tt it's the sauce unconsiously.. Hahaz.. Mr Neo quickly took the Shiraz bottle away.. Hehez..
We went Vivo City after work and met Melvin there too.. Hahaz.. The 3 of us went walk around before meeting him at the skyroof level..
Very nice scenery..
But the 130 haze made Sentosa and the buildings seems like mirage.. Sob.. ='(
The playground 1 storey below the roof seems fun.. Hahaz.. Innovative facilities..
The "see-saw" orange colour thingy so obsence.. If u wanna tik dirty lahz.. Hahahaz..
Dearie and Mei Yan wwent off in train so Melvin and I went to fetch the car at the carpark and wen we cm out, saw the red rocket.. Hahaz.. Lucky behind us no car, tt's y can take the pic.. Hehez..
Went ECP to play pool at 6.20pm and I won 1 round!! Hahaz.. Happy enuff, at least i improve mahz.. Hahaz.. =D
I look so dumb in this pic.. Hehez..
After tt, went over to Toa Payoh to eat Long John Silver.. Finally get to eat my combo 1 with colesaw and ice lemon tea.. Hahaz.. I'm a happy ger.. Hehez..
He wanted to go airport de, but there no parking spaces and parking fees are damn expensive lohz.. Hahaz.. So he brought mi to Esplandae instead.. Went to sit at Merlion park since 11.56pm.. Thought can see Eetien at One Fullerton (his working place) but was a few minutes late, cos once he went in, very late den can come out..
A pic taken long ago during his fren, Wei Loon's gf's b'dae at Pasir Ris park.. Hahaz.. So cute.. Juz gt the pic frm Fion sumhow..
So We juz sat outside chat while I play puzzle bobbles and 1 jap game on his PSP and he aso showed mi stupid videos on Youtube.. Hahaz.. Waited until 2 plus am den we left tt place..
Amazing wall paintings at the carpark.. I finally gt a chance to take a pic of mi kissing the wall!! Hahaz.. Happy ger..
And surprisingly, I was attracted to a Yellow Vespa!! So cute and nice.. So afraid tt the alarm will ring at first, but he assured tt there's no alarm, So i took pics with it! Hahaz..
I wanna own the bike!! Posed once more.. Hahaz.. =X
Hahaz.. Not enuff slp and was feeling very unwell, so i skipped work agaib todae.. OPPS!! Hahaz.. Bad Ger!! Sorry dearie.. Hope u had fun working todae!! Muackz.. Sorry!!
Tata..
Might meet Ron again ltr.. Hahaz.. =P