So tiring last night.. Both my hands doesn't feel like mine anymore, except that I can feel the muscle aching.. Sob.. ='( Y I so weak, my fren my muscles are developing.. But i dun wan!! Really very pain.. My mum ask mi go use thing to massage, like it can be done like tt lohz.. Right hand touch left hand pain, Left hand touch right hand pain.. Sob.. ='(
Anyway, yest met Yee Ping at harbourfront interchange to wait the Arches bus @ 3.. We arrived there at 3+pm and we were served DINNER!!!
dinner... =(
Although it look plain and it actually plain.. It's delicious.. Hahaz.. Salthy and the rice very chewy "Q".. Hahaz.. I'm not a fussy eater tt's y. I like! =D
After that, we tok abt 6 rounds of attendance b4 we are settled down..
Meanwhile, as usual..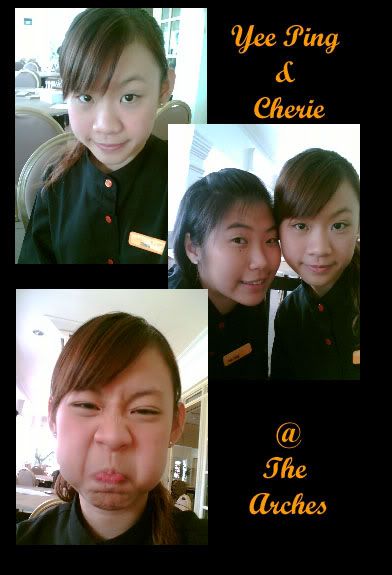 Our nametags (pics taken after work When Ade is with us)
Yee Ping was spelt as Yee Qing.. The staff very bo xim right?? Haiz.. Never respect as as individual.. I'm crapping.. =P
Around 4+pm, we changed into the uniform and put on the apron and set off for Sentosa Cove.. I almost trip over my apron twice!! So dangerous lohz.. Hey! The tall ones gt tripped too.. Not cos I'm short! =X
The scenery there is "WOW!!"
From the pics cant feel the atmosphere de, at the site was reli great!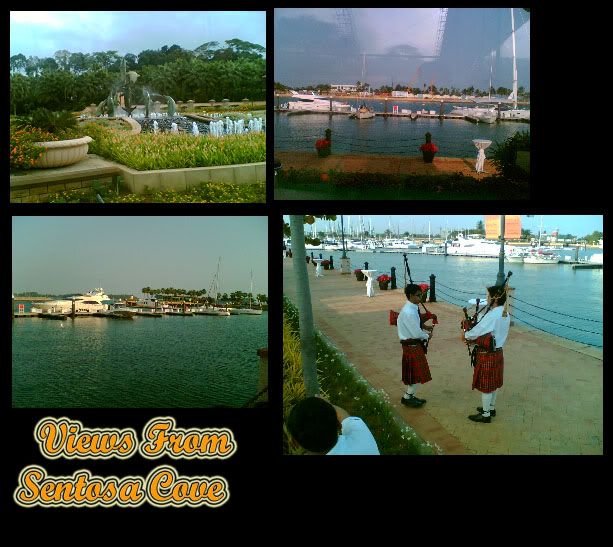 Before work starts at 6pm, we have sum free time to take pics.. Ade finally arrived but doing different jobs as the rest of us.. Hahaz.. =P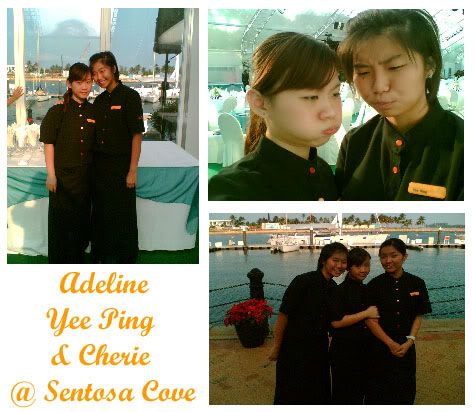 We toured around the kitchen and went to the toilet and prepared to fight the war!!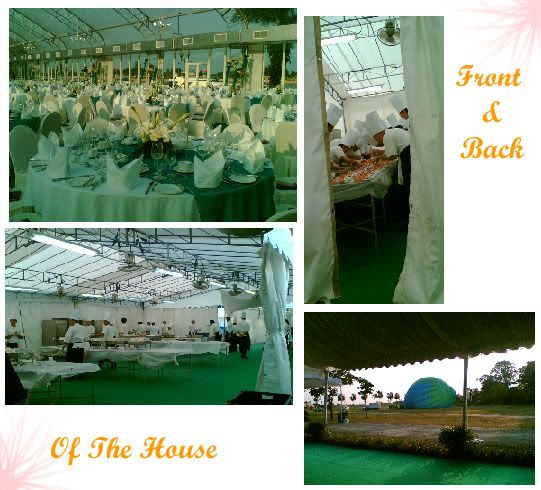 First assignment was to present canape (an appetizer consisting usually of a thin slice of bread or toast spread with caviar or cheese or other savory food) during cocktail.. Very weire loh.. Gt prawn with rockmelon, watermelon with cheese and raw tuna.. Hahaz..
Tot the job was alot easier than serving the beverage, it was a killer too man! From the kitchen to the cocktail area, my left hand is already aching, den i change to my right hand, den both hands, my hands muscles start to arch withing 10 mins or less than tt.. Seriously!! Sob.. For one hr we carry that around without rest.. Wen i wanna reach to my nose, my hand was trembling, den i can onli let my nose itch unwillingly.. Sob.. ='(
Blah blah blah.. White wine, appetizer, red wine, main course, dessert, coffee & tea and finally petit 4.. The dessert is baked alaska, which required us to torch a flame inside a brandy and pour over the merange (typo).. And while i pour, i burnt my hand abit.. Sob.. I very xiao jie right? So weak.. Hahaz.. =P
Finally back to the Arches to change at 10+pm, finally have the chance to take pics with Ade, but too pity, without uniform.. Found out tt recently my pics all gt puffy face.. Hehez.. Maybe the hide the fact tt i have fat cheekz.. Kekez.. =P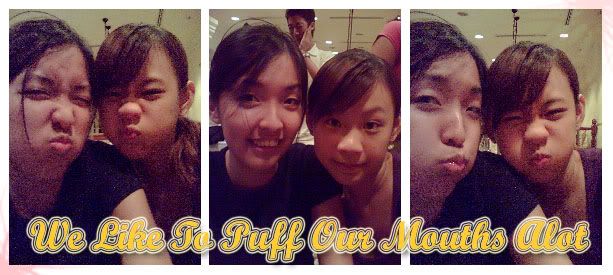 Met Kendrick & Wei Feng at Harbourfront den went off in WF car to Hougange take the Ken's bike.. Hahaz.. Which means, i get to ride on a bike finally.. Hahaz.. =P
Very windy, cold, fast.. Nt bad lahz.. Not reli scare, nv hold him aso wont fall.. Hahaz.. =P
After tt wwnt to get a drink at Khatib 7-11, was recommended to try Long Island Tea 10% alc.. And i was already sei even b4 i finsih the bottle.. Hahaz.. Cos i was toking nonsense and they can sense tt, so i was told to stop drinking at half of this level.. Hahaz.. I kept tearing off the label 1 by 1.. =X
After that, i ride on the car to Yishun and finally i reached hm by bike at 2am.. Hahaz.. But after I bath, feel alot better..
Cant sleep, so chat n chat, in the end, I went out at 5am to ECP in hope to catch the sunrise.. Hahaz.. Reached there too early den we tok crap until we missed the sunrise.. ='(
And pls spot the difference btw the image of the sun take by my phone and his's! Dun understand y mine gt a dot inside.. Scary lohz.. I took 3 pics all look like tt de.. Hahaz..
And can anyone tell mi wat is this?! Hahaz..
About 8+am, we went to eat the big breakfast i longed for at Mac.. =D
And he kept complaining of my dark circles lohz.. Haha.. Cos he kept asking mi to sleep more.. I never wear any make-ups in the morning mahz.. And i looked like a zombie.. Be prepared ah.. Scary de lohz.. =X
Better hide my face and act as.. !!
Tata..
Cherie from 2017.. =D