I PEE in my pants todae!!!
So lag in my blog entries.. Been busy working and preparing for exams.. Last post was up on 24th August 2006, so let mi continue from there.. Hahaz..
I went to work @ Icekimo, an ice cream shop intro by Wei Jie but i went there to help out sometimes onli.. The shop was pink and white.. So sweet!! Hahaz.. =P
Very relax lo, no boss, no supervisor.. We start work at 11am but we were late and reach there at 12pm and we still get paid!! Hahaz.. Hope the boss doesn't see this.. Hehez..
At least i captured a pic show him making ice cream.. Hahaz.. And we took sum pics as the shop wasn't bz..
When the shop is empty, he made us waffles and we topped it with ice cream ourselves.. Onli 2 of us and a customer in the shop.. (or wasn't there?) Hahaz.. =X And i bought my laptop (all prepared) and we watch Jin Shan Sun DVD and eat our waffles.. Hahaz..
The super nice boss came at around 6 or 7 plus and help us out.. At first i felt strange to tok to him.. But actually he very fun to be with, our fav pastime is playing UNO together.. =D
Hahaz.. And in addition, i gt a drunk pic here.. =P
Fridae Ade and I met to go Wdls library to study (actually i 4gten abt it) Hahaz..
Sat, i worked @ Icekimo again, suppose to be 6pm start work but the shop was too bz, so i was needed at 5.30pm.. Lucky gt Gary, we took a cab there and reach there at 5.25pm (i left my hse at 5.05pm) Hahaz.. And we entertained ourselves with UNO..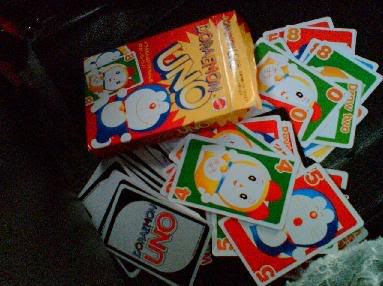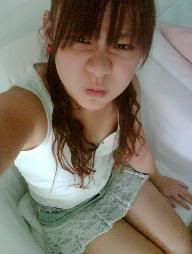 After work tt dae.. Damn tired lohz.. It was 12+am le.. After work, we ride to Marsiling for supper at 1+am.. Quite funny lahz, Arsenal match was on and the 2 guys was "Aiyah!" here, "Aisei!" there.. Hahaz.. After supper, boss drove mi hm at 2+am.. Yawnz..
***** The Exams Period*****
After accounting paper, i was requested to work again, but this time Adeline accompanied mi to my workplace and she "studied" there with mi and Wei Jie working.. Hahaz..
She stayed there from 6pm to 11+pm when we close, and boss offered to send her hm.. Told u he's nice right?? Hahaz..
My aproned- pic..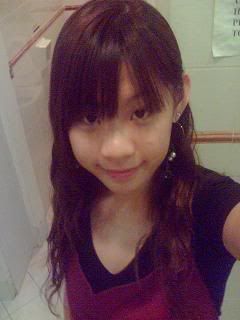 I dun care if u r interested anot.. Hehez.. =)
Didnt sleep to study for Applied Research tt dae, and i reli admit tt i'm getting older, the next dae i dozed off at 8+pm till 1am and couldn't fall aslp until 2am.. Hahaz.. =X
Marketing paper was quite a breeze lahz.. At least I'm quite prepare.. Hahaz.. But CRSpa was "OMFG!!"" Difficult.. I hope i dun failo the paper.. ='(
After paper, Ade & Anna dearie & 1 went to Tampines Mall to shop for sum things, actually wanna go Ade's hse to slp de, cos i very SEI and she's very tired, but dearie sae she dun wanna so early go hm.. Hahaz.. But at least each of us bought sumthing in the end.. Hehez..
We reached Sentosa at 4+pm for the masqued beach party.. Too early so we settled dw at Seah Im for sugarcanes.. Hehez.. TAS was so empty, we r like the 1st to reach or wat, so we started eating since there nobody there to entertain us..
So obsence right, but we like.. Hahaz.. jk lahz..
The buffet food..
We two lonely little kids went over to the fair & sq bench for the meal..
After dinner, we went to Block to watch Love Actually, and we were masqued on the way.. Hahaz..
Ade feels bored half way through and we went dw to wait for the hunk and babes contest.. Well, it was a disater.. Samuel Seah wasn;t a gd MC, still kui i admire him last time.. Wahahaz.. =X
Mi and Ade desperately finding ppl to go out with cos we reli dun feel like gg hm.. Ok lahz.. Maybe onli me, cos bad mood, so in the end, we met my fren at PS to watch "The Devil Wears Prada''..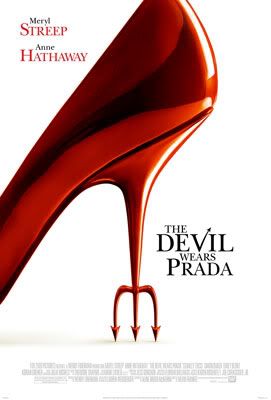 Not bad lahz.. Hahaz.. I cried when Andre's bf break up with her.. Sob.. I HATE BREAK UPS!! But necessarily den it's ok lahz.. Hahaz.. =P
After tt, nowhere to go den we walk to Bencoolen Kopitiam eat dim sum..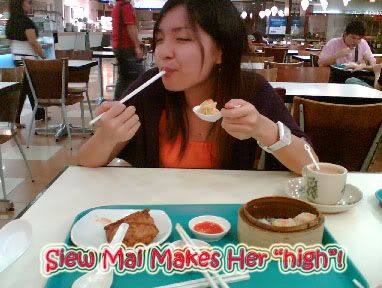 Oh ya!! When we went around searching for food to order, Ade walks beside mi.. And i reli gt a very very bog shock when i saw the ger in front of mi.. Hahaz..
Look alike lohz.. Lucky Ade nv bring her bag along, cos the bag aso almost the same.. Hahaz..
Really nth to do and no transport hm, so Ade asked her fren to send us home.. Argh!! Tiring day.. SnoreX...
Saturday was the Service Ambassdor gathering at Sentosa..
I woke up at 2.33pm when we were supposed to be there at 4pm.. Sob.. Guilty mi made Ade waited for mi for almost an hr at Harbourfront interchange..
We met wesley and Ivan at the blue line bus stop and while waiting for the bus..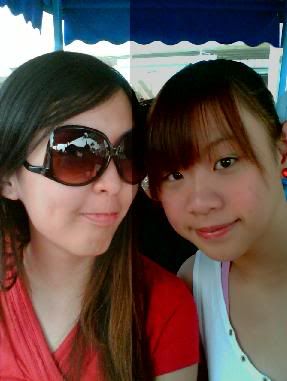 We took the beach tram to Siloso beach to meet Yang Ying's and guys..
The Siloso beach resort looks nth from the outside, but on the rooftop garden and room is reli v different.. hahaz.. The view very nice.. Minus the ships on the sea..
Eat eat eat..
I snapshot the room while i went to the restroom in the room..
Not bad right the view, and the TV, so flat!! Hahaz.. Juz like mi.. =P
We chit chat with the seniors, we nominate for the new ex co and we had fun playing the number game.. We left tt place at 8+pm.. Wesley asked us to go for supper at Newton Circle, of cos mi and Ade will join.. Hahaz.. So Ade, Wesley, Ivan, Yang Ying, Calvin & I went to take the train to Newton..
Yummy time!!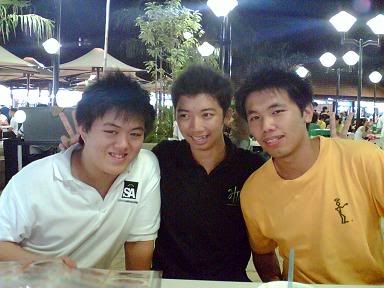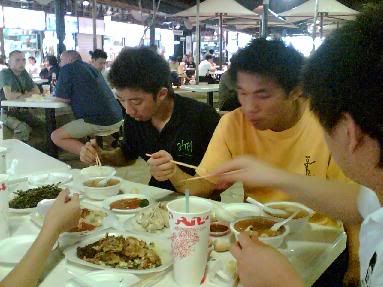 We kept listening to Wesley and Ivan saying lame jokes and moral stories and Yang Ying kept correcting them.. So fun adn funny.. Hahaz.. We left the place abt 2am and it was a big headache to tik of the ways to go hm.. Wesley wasn't prepared for guests so we didnt go his hse in the end and we have to settled for cab and Nightrider..
Ivan, Ade & I reach Orchard by Nightrider at 2.20am and i reli wanna go to the restrm, so Ade went off with her bus stop and he accompanied mi to MM hotel fot toilet.. Hahaz.. He sae very pai seh..
We waited and waited so long for the bus and it finally sent us back to Woodlands and about 4am.. So eerie walking home along for about 10blks along the road.. Hahaz..
Ended Sat and I slack my dae on Sundae.. I wanted to go jog at 10pm de, but dad dun allow, sob.. ='(
Monday!! Todae lahz.. Went to IMF training at 930am.. I reach cityhall at 830am lohz. Den buy myself breadtalk to eat ALONE!! Hahaz, while waiting for Anna Dearie.. I reli v blur, pais $50 for $2 stuff den walk away without tasking the changes.. BRILLANT!! =D (Gt la in the end.. Kekez..)
The job seems quite ok lahz.. And the captain "likes" mi i hope.. Hahaz.. She call mi a 13 yr old kid.. Hahaz.. I tik she's young and capable lohz.. Captain at 21yr old.. Hehez..
Took pics with Anna with Serene's phone during lkunch at the staff cafeteria but didnt manage to gt it sent.. =(
We ended smoothly at 210pm and mi and another 2 gers rushed to Sentosa for a job training tml.. Forbes Global CEO..
The dinner is held at Sentosa Cove.. Very nice lohz the place, but afternoon we go is like damn hot.. Hahaz..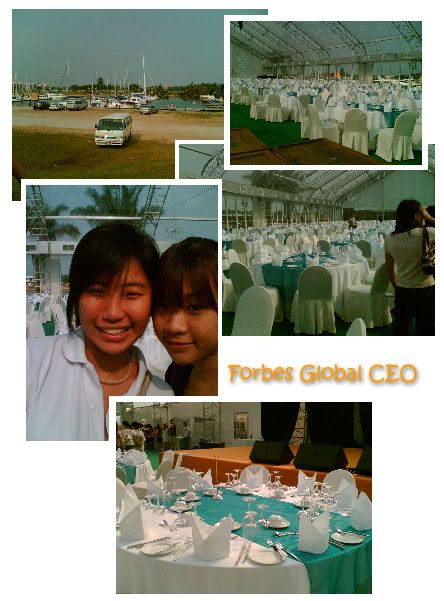 By that, i ended my last pics of the blog and the title of this entry is juz bullshit.. =P
Hehez..
Tml's the Forbes dinner le, i 1st time do banquet le, reli very scare to serve.. Sob.. Jia You!! Hahaz..
Tata..
Cherie..
From 2211 to 2344..