Sorry.. Wanted to blog abt Sat and Sunday long long time ago but very lazy.. Hehez..
Now I'm in school discussing abt culinary execution day & going back to kitchen at 2pm.. -.-"
I injured myself jus nw.. I was peeling weird shaped potatoes with the peeler than accidentally peel off my nails, den i tot nothing, so i went to wash.. But it was bleeding.. Sob.. Very pain.. Den chef took plaster for mi.. Till nw still very pain loh.. My left middle finger sum more.. Haiz.. ='(
So on 5 August 2006, I met Wei Long, Zheng Kang, Christina & Choon Ni at Bugis to shop and walk walk around, didnt bought anything but did spent sum money on KFC.. Hahaz.. Not nice de.. =P
About 7++, we went over to Marina Sq before heading over to watch fireworks near Esplanade there..
Tata!!
After that went over to Merlion Park to slack slack a while.. Very bored, cos we went back after tt.. Sob.. ='(
On the train.. Zheng Kang & Choon Ni were very engrossed in their hp conversation.. So the rest of us took sum pics.. =P
Sunday, 6 August 2006..
Very tired, slept abt 2 hrs+ the dae b4 and 2hr+ in the morning.. So i met Lystra at abt 2pm under her block and we took a cab to Bugis.. We PLANNED to start our revision at the National Library.. But..
She said she wanna go Dorothy Perkins to find some tops, But in the end, that's not the onli shop we went.. Hahaz.. We went to take neoprints.. Hehez.. So long (1/2 yr le ba) since I last took neoprints.. So happy.. =D
Finally decided to head to the library at 5pm, but the place was so filled with ppl and we head back to Bugis Junction for our dinner..
Fish & Co.
Shit.. Fattening and expensive food again!! Should haf spent the money on sum tops.. Hahaz..
I ordered seafood platter and she ordered swordfish collar tt i recommanded and aso sharkie which was giantic and she didnt believe mi at 1st.. =D Hahaz..
I ate almost half of her collar and i gave her sum of my seafood.. I was like a bottomless pit, didnt feel the fullness until i stand up.. Sob..
I gave hedr $22 for my food.. Kekez..
We went shop around in the mall and stopped at one of the push cart at first floor.. HIPPY CHIC!!! The shop's name.. Lystra wanted to buy a bag there, but in the end, we were accused of shoplifting.. Sob.. Lystra almost fought with her.. Lystra insisted her to check our bag and argued with her.. The shop assistant looks very educated and in her 30s.. Never patronise the stall ok?? It's is f***ing unwise to shop there and kena suspected for the things u didnt do.. Haiz.. We were so pissed..
Lystra went to Accessorize and spent so much there.. Hahaz.. Revenge!! =P
We took a bus home and reach home so early.. About 10?? Hehez.. So bored..
Tuesday, 8 August 2006..
National Day eve!! I wore white and red like the national flag..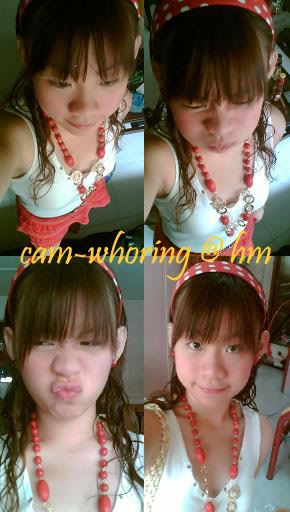 Reached school at 12+pm for my Marketing oral assessment, damn easy.. Juz need to noe ur stuff and crap.. Hehez..
Saw Adeline and she wore red and white.. And we looked like sister.. Same hairband and bag sum more.. =P
Took many pics at Petite Cafe before going to Accounting tutorial.. Cam whore..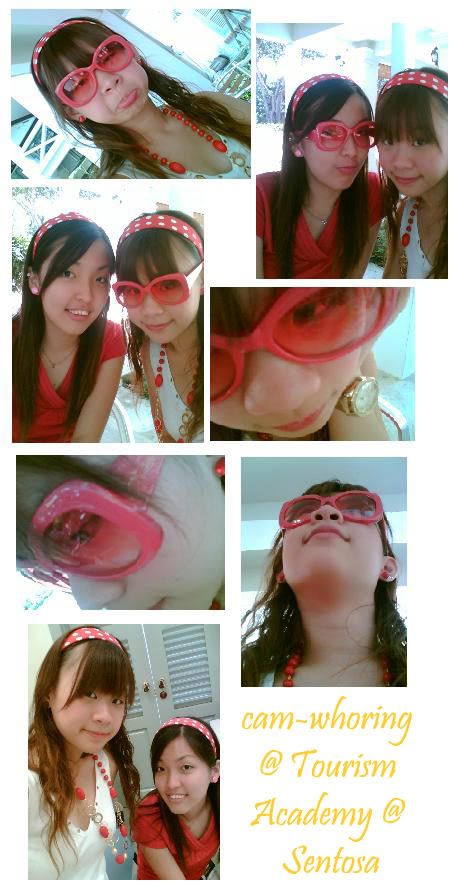 After tt, actually we planned to go Chinatown to find her belt den cm back to school for Salasa free lesson.. But seems like no one is going, so we decided not to come back.. Hahaz.. =D
We went Plaza Singapura and shopped while waiting for Ray to come for dinner tgt.. Me and Adeline took neoprints aftyer he arrived cos we tot he could joined us.. But in the end, he rather pay the $10 than joinging us in the pics.. Hahaz.. And halfway through the photoshot, he open the curtains and scared us.. I screamed so loud until gt echo.. =( So paiseh..
Tata!!
In the end, he didnt join us for dinner cos he needa rush for his 7pm lesson and he was still there at 6.25pm.. Hahaz.. So mi and Adeline ate oyster mee sua.. =P
We went over to Chinatown to find her belt but the shop was closed cos it's 15th of the 7th month.. Hahaz..
Headed to Marina aftermath for the fireworks.. So dangerous lohz.. It was so so so crowded there and the fireworks was very boring that day.. Very very ugly.. Waste our time.. After the fireworks, Adeline heading to meet her frens for kBox and i'm left with nth to do.. Very depressed.. Reli very depressed and i cried on the way hm.. 960 was so crowded and i was stuck standing beside the driver throughout the whole journey..
In the end catch the movie "Click" with sum frens and it was a reli gd show!! Funny and 60% touching.. Hahaz.. Precious lesson learnt.. Families 1st..
"Will you still love me in the morning?"
"Forever and ever, Babe"
So touching at the scene where Michael hugged his dad and when he lied on the floor dying.. Sob.. Although everything is fake, it was very very touching.. One terrifying part..
"I'm an angel... of death!"
Hahaz.. Headed home and online and slacked, couldn't sleep..
I woke up 1.20pm yest and i stayed at home for the whole dae.. Boring life.. Boring day..
Haven start my revision at all.. I gt 3/11 marketing notes, 1/2 CRSpa notes filled and onli 2 Applied Research notes which are blanks.. All these are examinable subjects but I didnt go for the lectures.. Argh!! Regreted!! Very.. Sob..
Needa go redo my culinary ppt slides le, i forgot to bring my card reader but i brought my memory card!! Dumb mi.. ='( Sob..
It's 12.55pm nw, but i'll post the pics wen i get hm..
Till then,
cHeRiSh Mi, Forver & ever..
Hahaz.. But no one to love mi nw.. Hehez.. =P