Actually, very tired and lazy to blog, hahaz.. Tml still need to wear formal and go for dental check up.. =]
Well, todae tot culinary will be super tiring, 8 to 6! But we finished at 10++am! Hahaz..
After grooming checks todae, Ade, Xue Min and mi went to see Bernice, she asked us to evaluate ourselves and the group for culinary projects.. =P So difficult to grade everyone.. I wasn't very involved though, thus i didnt reli know how much they did for the project.. Hehez..
Went back to kitchen and help out with the production of COOKIES!! Munch and Bite with the freshly baked cookies.. (of cos we steal it frim the tray lahz) Hahaz..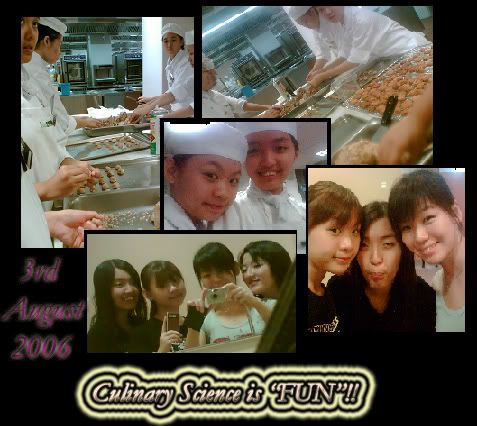 Well, in case u didnt notice, the ugly ger wearing chef's uniform on the left is mi.. Wahahaz..
I used the measuring cup to pour ice water to share with the grp, and chef Joyce also asked us to drink more water after the cookies.. But tt *** chef ng forbid us to do so.. She asked: "who sae u all can use it to drink water?" Den after i admit, she ask mi to pour the water away and ask why we didnt bring our own water.. Chef Joyce tried to help us by giving us disposable cups to drink but Ng forbid again sia.. I tik she abit.. *** Cant sae here lohz.. I timid gd student.. Hahaz.. But i was v angry >=(, cos we were all very thirsty after the cookies.. Hahaz.. =P
We finished at 10++ and we went to change in the toilet, and took sum pics.. After tt, Ade and mi decided to visit the Cinemania since we heard tt it's free if we produce our TAS card.. =D So we went to hunt for tt place for abt 1hr plus.. -.-"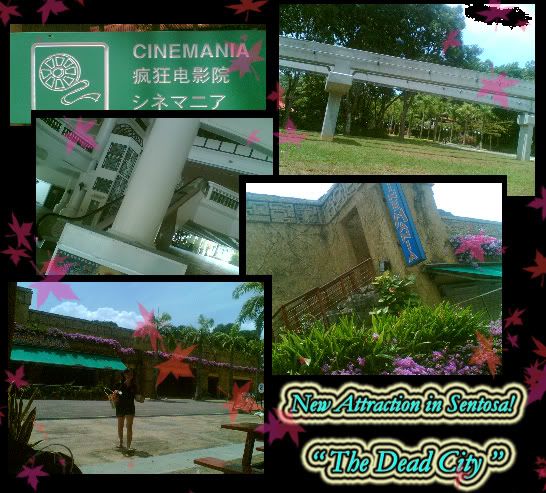 And found out something, the place where we once gt so fascinated by the monorail rides, became so dead.. And i tik i'll named it "The Dead City".. Following their Ruin City.. =(
We walked a long way to find Cinemania, no wonder it failed, stationed so far from all other attractions, if not for tour guides we brings tourists there, i bet it will be v v v dead!
Reach there at 12.40pm and the show starts at 1pm, so we went over to a bench to slack..
I was so dead, like the city..
And Ade were too!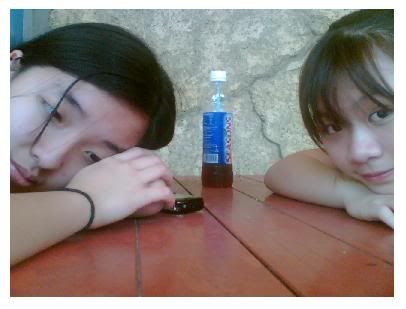 ....wait....wait....wait....
1pm!!
I kept screaming and shouting for fun.. Hahaz.. Quite exciting lahz, but not reli worth the original price of $12.50 for adults.. I rather ppl come to TAS and haf RITS for the same price on 17th August from 11.30am to 1pm.. Right?? Hahaz.. (HINT!)
On the way back to the bus stop, we saw a cute bee and freaky flower promoting Sentosa for spring next year.. ( I tik the marketers failed terribly)
So we went to stroll at the fountain garden under the hot hot sun.. D=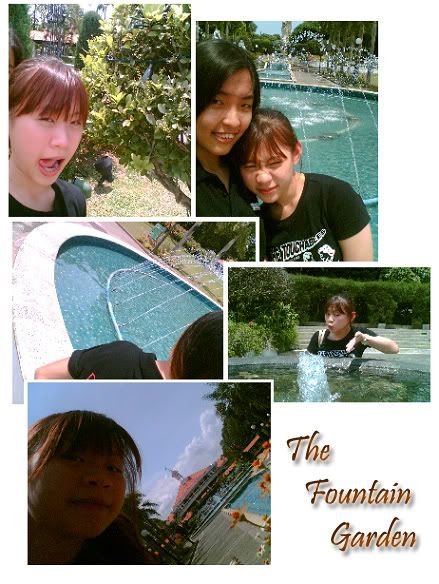 The water i drank was very refreshing for the throat.. Maybe i can sae fountain water there.. If there's ppl gg there.. -.-"
When we finally found the bus stop, we took the topless green line! Wow! First time for us! And we were very excited.. Hehez.. Onli we 2 at the top!
Cam-whoring are not evitable of cos, and tons of them are taken but onli few themed ones was selected.. Hahaz.. Featuring us kissing and... biting!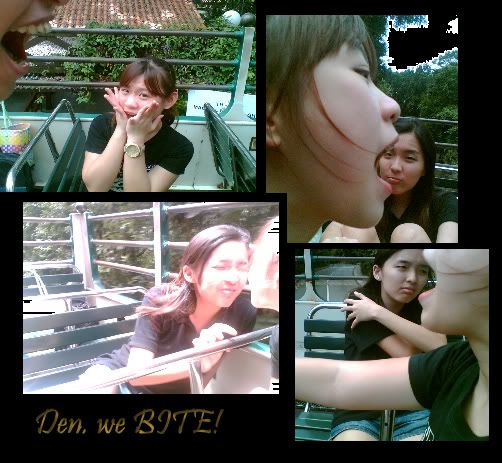 Fun, Fun, Fun!!
After that, we alighted at imbiah lookout for lunch at Saprino's Pizza.. Even a boring place there can have sum excitement added by some creature.. When i was juz abt to carry my can of Cherryade to my table, this big head... black.. freaking... disgusting... cockroach was crawling on the can and it is so NEAR MI!!! I'm not afraid of cockroaches actually, but it's scary wen tt creature is so near u.. A caucasian beside mi tried to kick it away.. (Thanks huh! -.-'') A gentleman eatng there came over and swept the cockroach away and i changed to a new can.. Opps!! Scary..
Finally down to the boring pasta!!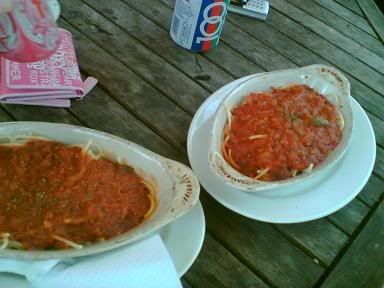 Tata..
Finally finished the blog by lazy blogger..
cHeRiSh Ah! RmB...