I had my last blog entry.. And in this fine Sunday morning, i'm gonna update my blog with simple words and interesting pictures (i hope).. =D
Lets begin..
Long time ago, on Thursday, 10th August..
Xing Yu, Jasmin, Ade & I went to take free ride of Carlsberg Sky Tower, thanks to Xy.. Hehez.. But not very fun loh.. Woe for 2 minute den the stupid thing come down again.. And without my make up, mi and Ade cant take nice pictures.. But i managed to get 1! Hehez..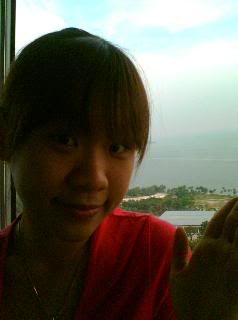 Fridae and Sat were study daes.. Hehez.. Actually gt self obessessed pic de, but reli reli very ugly, haiz.. In the end, i chose the non-living thinged picture..
Ond Sunday, I packed my things nice nice, wear very ugly, decided to go Library study le.. At 12plus pm.. But dumb mi, the library is already damn filled woth ppl.. Sob.. Den i tried thinking of where else to head for revision..
.
.
.
.
.
Dearie's House!!
Hahaz.. So I ended up revising there.. Well, u noe, having a fren around you distracts concentration right?? Hahaz.. Yupz.. And we take pictures!!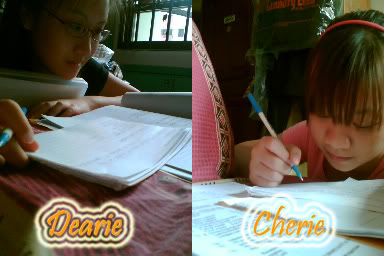 Compare the two pics, I look more convincing right? I tik i noe to act "I'm am studying" better than her.. Kekez..
Found out Dearie's fav "handsign"..

Let's keep that a secret..
Talking about cam-whoring, Dearie's male dolphin (cos it's blue) love taking pics with mi too.. U see.. (Now i'm being childish.. -.-")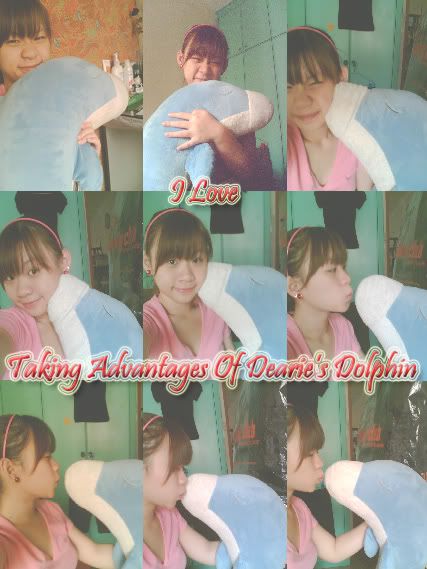 Hehez.. Headed hm after dinner and tv program..
Last week of school was boring, the school seems so dead, like no one coming to school, onli a few idiots like mi rudh to revision lectures cos i never go for any of them since the beginning of the term.. =P Guilty..
On Thursday, 17th August.. Is our culinary big day..
But i screwed it up at the very beginning..
Firstly, I was late.. But didnt get caught..
Secondly, I didnt brought my cap.. Luckily Ms Wilson let it go..
Thirdly, I have to stay in the kitchen for the whole dae with my dumbest hairnet and being caught black head by Darren!!
Triple Sobx.. ='(
The kitchen operation was so tiring, thought we would have a lunch break at 10+am, but the whole team did not stop working from 8am to 3pm.. Now my back still hurts.. ='( Sobz..
Despite of my tireness, I still smuggled my hp to take pics secretly.. So exciting.. Hahaz..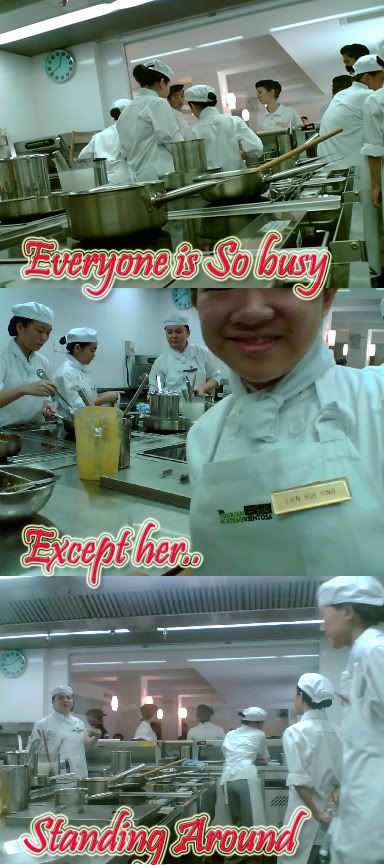 Hui Ying so cute right? Kept snatching shots of herself.. Hahaz.. The kitchen seems busy at times, but we steal food in the kitchen like nobody business.. Hungry ghosts mah.. Hehez..
Finally 3pm is up and we were off to clean up..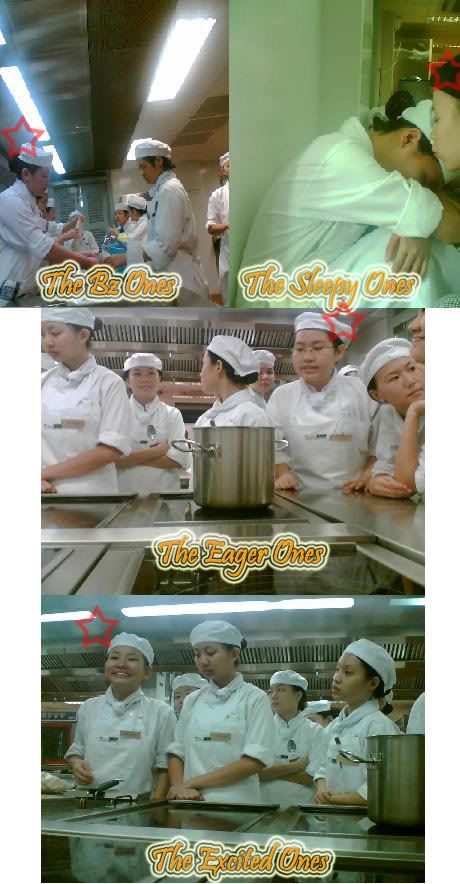 Ade were so sleepy.. Ppkl with the star are major character in the pics.. Tt pic of De sleeping is star-ed cos i wanna hide my ugly head.. =P
Sui Lan looked soo... cute in that pic.. Like she's waiting to eat up the pot tt we used to sterlize the "gd-morning" cloths.. Tian Chuang was helping Chef Jason to fry nuggest fot the SLG ppl.. Hahaz.. They always trouble us.. Opps! =P
Before the debrief, we had a group photo take.. Wonder if we will get to recveive tt ltr..
During the debrief, we were informed tt we were the hignest for the week.. But Dearie juz told mi they were the best group.. Sobz.. ='(
Whatever..
After we changed, Tian Chuang & frens were drinking the leftover red wine, Ade & mi joined them in the "numbers" game.. Hahaz..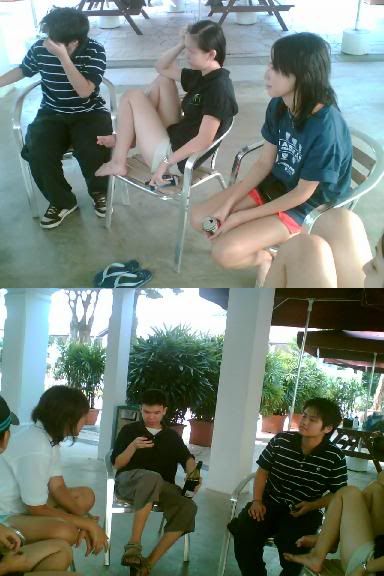 Fridae is the last dae of school, last lesson was BESE..
Nevertheless, cam-whore with Yee Ping before the lesson starts..

After lesson, Ade & I went to Petite Cafe for lunch FINALLY!
I ordered Dory Fish..
Very nice worz.. Hehez..
But very small portion.. Hehez..
After tt, went over to TP to pay my fees and play a round of pool..
I lost by a ball.. Sobz.. We both played very lan.. Hahaz..
I'm going kBox later.. Hahaz.. Tell u about it went i get back.. Kekez..
Tata..
cHeRiE..