Hehez..
This afternoon went to Koufu to eat with Ade, Xingyu, Wesley, Ivan and Denise.. I only drank a cup of milktea cos I'm nt feeling well.. My stomach has been aching since yest for no reason.. Guess it's my nervousness from my presentation tt caused the pain.. But till nw.. Sob.. ='( walk or laugh aso pain.. Haiz.
Anyway, Xingyu treat mi and Ade a chairlife ride!! I typo inside my pic.. Hehez..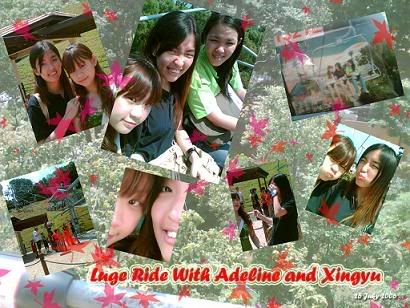 The ride was far too scary for mi, i tried many times b4 i gt the courage to life my hand up to take pics.. I scare my phone drop lei.. ='( I was there kept screaming n screaming and tell them i v scare.. Hahaz.. And Ade ask mi to jump dw.. =(
Well, went back guaily to sch for mkting lecture after tt.. =D
Having culinary proficiency test tml.. I'm so worried.. So many things to cover..
Tata,
Till then,
cHeRiSh Mi.. <3