Just send my applied research proj to my group mate.. Phew..
Since last Friday, my life was packed with fun activity.
Went to Jerome house with Wei Long and Zheng Kang to play mahjong.. Hahaz.. Wei Long tt host ah, play till half way (till "nan" onli) den complain tired and went to sleep.. In the end, i onli lost 10 cents.. Waste time man.. Hahaz.. We played till 1 or 2 plus den went to rest.. Woke up at 8.30am and i went back home to take a nap..
Regardless of the tiredness, I met Lystra at 2pm at Wdls interchange and we took a cab to Far East Plaza to SHOP!!! Hahaz.. Finally, shopping with a ger is so fun and exciting.. Hahaz.. Bought 2 necklaces and a ring there..
Saw a glance of Joel by chance and he was rushing off with his frens, after tt, we headed to Wisma cos Lystra wanna go to Topshop for her clothes, i tell u.. That dae she dunn spent how many hundreds juz at these 2 places.. Haiz.. I dun tik i will have the chance to have a spending spree like this.. =O
After that, we were both very hungry and my injured left foot was v v pain from the heels.. So we decided to went over Heeren for dinner at the Korean restaurant.. Han ram sumthing.. Hehez..
Both of us have the hot stone pot rice each and a steam egg..
Hahaz.. After dinner, we shop around Heeren and ltr went over to Cineleisure.. She is the one keep spending money.. Hahaz..
We took a bus to Bukit Panjang and change another bus back hm.. Homed at 11..
On Sundae, we planned to go study at National Library, but we ended up shopping at Causeway Point.. Hahaz..
Both of us had 7 plates of Sakae for lunch and one thing, we were shocked when we saw the change at Level 7.. Banquet was there!!! Hahaz.. She doesn't like the idea though..
We went to Bata and i bought my Cherries slip in! =D
Went home at 5pm boringly so I went online.. And i found somene who is going to watch Superman with his frens at CWP so i went to prepare and went out at 7pm when the car arrived..
Went to have Swensens, the salmon & mushroom pasta is reli v nice.. Recommended new dish.. Halfway through, Adeline called mi to help her choose her suit colour, she happened to be at CWP Dano, so i went over..
After dinner, went around Metro toys dept. and went up for the 9.30pm movie..
Superman was boring at first but everything was made up by his body and looks.. Hahaz.. =P
The Movie finished at 12am and we headed to the carpark.. The first time i experience multiples sharp turns in an empty carpark.. Wahaha.. =X
Well, homed and my weekend ended like that.. =D
During Club, Resort, Spa tutorial yest, Yee Ping, Adeline and Mi daringly cam whore in class.. Kekez.. =P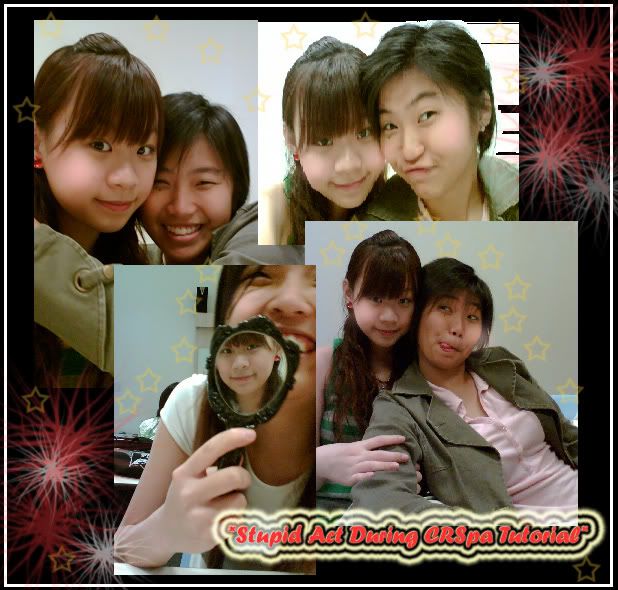 Well, had our Marketing Presentation, I tik i screwed myself up.. I dun understand anything tt came out from my mouth.. Hahaz.. Shawn was calling mi ah lian when I went back to class after the washroom trip and during my presentation, he was FALLING ASLEEP!!! Such a discouragement.. Haiz.. =(
But everything ended, waiting for everything projects to finish by next 2 weeks..
Last but not least, another look alike was found..
Till then,
Tata,
Cherie..
"My life was happier after all the craps..
But I still miss some of ur craps.. =D"