Haiz.. Doing projects, tt stupid baby dunno doing wat.. Muz be still in bed cos of the soccer matches again..
Hasn't been a gd ger since last wed.. I went hm onli on fri and yest.. Now mum banned mi from staying overnight outside le.. No more "chalet" for mi.. Haiz.. Die le..
Last Wed, I helped out in Grad cere..
Was under Revi Nair.. He asked mi to hang around and gave mi no post, haiz.. So i help help here.. Slack slack there and eat the buffet.. Hahaz..
After tt, at 7+pm went to Bedok to meet baby n frens, catch Cars.. Cute and meaningful cartoon.. Wen the show ended, we went to the restrm.. An okay looking ger went ahead to the gents and et they all stopped her.. Den she very pai seh went to the Ladies.. Den i tot she gei gei onli.. Den we sat outside the cinema slack.. She walked out with her bf.. OMG!!!
Her white mini skirt was stucked in her undies.. Shuan was like "Stupid dumb ger" expression.. They tried to tell her bf.. Tt bf doesn;t even notice la.. Lucky sum passer-by informed him.. Haiz.. Gt such blur ger.. Tot she nt bad type sum more.. Haiz..
On Thurs, actually wanna go hm de, but kena cheated to go Kating to play lan.. I nth to do so joined in.. Was $7 for 4 hrs.. kaoz and we went in at 7pm, means, i cant go hm again..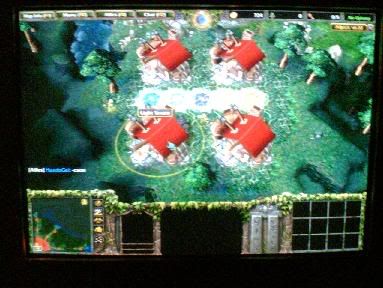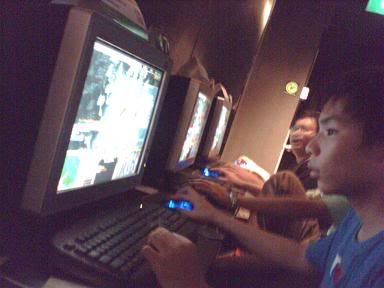 So Fri i went home unwillingly and be my gd ger while baby when Chijmes for his soccer match.. I watched Spirited Away with brother, no a bad experience aso.. Hahaz..
Went to Sentosa with baby and frens on Sat..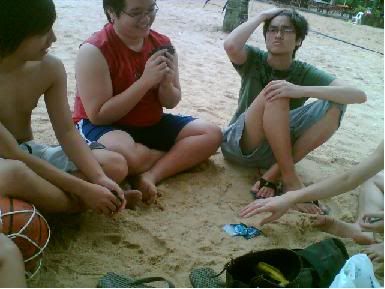 It was raining wen everybody reached.. Cos they were late for abt an hr again.. So we played bluff.. Kind Jiawen brought his poker.. After tt wen the lifeguard stop "pee-ing" his whistle, we went dw to the water..
The sun wasn't strong, lucky for mi.. But still becm darker.. Sob.. ='(
They decided to bury Shaun (following their tradition)..
They claimed tt after so many yrs, this was their best and highest sand erm.. thingy.. Hahaz..
After tt, we went 7-11 for quick dinner.. Cup noodles and donuts..
Took a bus to Bedok.. Sumone's hse for world cup..
Everyone was so tired..
Hahaz..
Sunday.. Went to Bedok 85 for dinner and went parkway for pool, after tt, went Simpang Bedok to watch soccer a while and went baby hse at 2++am..
Monday, we always woke up late.. And ya! The both of us was hooked on a hk drama (vcd) "Ju Dian Feng Yun" a show abt hotel.. Hahaz.. We even dwlded a song in it yest.. Finally finished the 30 ep. using abt a week.. Hahaz..
Went to Sean's hse for soccer match and Monopoly!
So long since i last played.. Primary sch i tik..
I was so rich at the beginning sia.. Luck wasn't with mi.. I was the first to lose.. Sob.. So i went to doze awhile and they shortcut finish the game at abt 4.30an.. ZzZzZ..
Baby cooked on Tues.. Hahaz.. I didnt helped at all, I was on the com palying dota and waiting to be serve.. Hehez..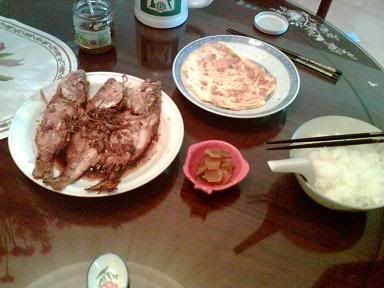 Tadah!! Guess his wife next time no need to learn how to cook le.. Hehez..
Went for gelare at Siglap at night with Shaun and slack awhile.. Didnt went to watch soccer with Shaun after tt at Simpang Bedok cos i dun reli like there and lucky baby pei mi.. We went S11 to meet up Fion they all and ate abit den we went to the Sean's place for match again, and i was in the rm with Sean's gf, Fion, watching chinese prog and she showed mi pics of Dawn's Yeo.. Abt her plastic face.. Hahaz.. Went back at 2++am..
I very guai yest, planned to go hm le.. "chalet" for too long le.. Woke up at 2pm and have lunch and reach Wdls at 5.. Since mum was at hm with bro, i went to my fren's hse to borrow comics and warcraft disc.. Finally end the stay out like this..
It's abt project again.. Guess i cant go to Sean's 21st b'dae chalet le.. haiz..
Till then,
Cherie ='(