I'm Happy.. no.. I'm Sad..
I dunno how many times haf i cried on the way hm juz now.. I'm juz not happy..

I worked at Century Sq todae.. The two gers there are nice, worked with them b4, so still can luff luff joke joke..


Unlike the Hougang GER!
The four water bottles we haf there all look like milk bottle.. Hehez.. Mine being the smallest.. =P (Pink and Orange de bottle)
During the off peak period during work, cam-whoring started again.. Hahaz..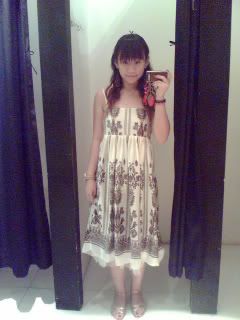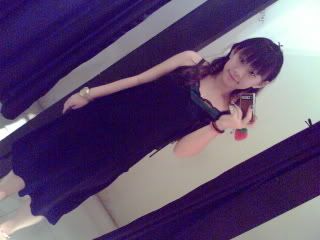 Hahaz.. Super narcissist lohz.. Hehez..
I saw a nice & cheap (cos we r having 50% storewide) $13 gold belt this morning la.. But a cust reserved it le.. Haiz.. Bitch, I lost the chance le lahz.. Sob..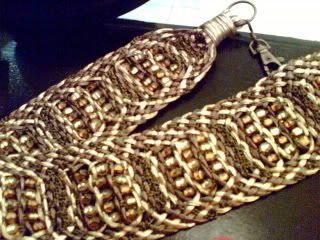 The one and onli unique belt.. ='(
At 6++ Kor came over to gif mi my present.. A Precious Moments's Musical Ball.. Kekez.. Although not Music box, i still like it very much.. =D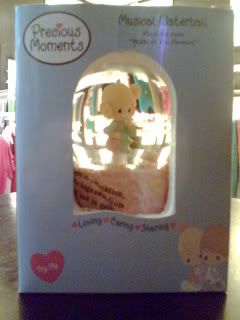 After tt, i went to DMK, next to our shop and i bought a pair of black heels.. Hehez.. The guy there very cute.. (character, nt face..) Hahaz.. But I tik he at least 20+ ba.. Hehez.. When the two gers went to get my shoe in the store, he asked..in Chinese..
He: Wanna seat dw? (pointing to the "chair")
Mi: No need.
He: Wanna eat sweets? (pointing to the bowl of sweets)
Mi: Dun wan.
Mi: Wanna drink water? (pointing tp his bottle og water)
Hahaz.. That situation damn cute, funny and akward la.. Hahaz.. He still sae gdbye to mi b4 i went hm after work.. Hehez..
But "he" was very late todae.. I knock off at 10 and he reach at abt 10.35.. I sat dw at the bus stop, feeling v v low.. Cos i'm gg to work at Hougang on Fri, Sat, Sun.. Dammit!!
I smsed and told my boss (her) tt i dun like to work there but she sae please and tell mi to help her out for this mth.. Kaoz.. She sae the superviser will be on leave from 21st to the 29th.. Kaoz.. Like i'm gg to work for her so long.. So angry.. Damn stressed up!!
We boarded the bus and i kept crying on the bus from Tamp to Wdls.. Poor baby already feeling sick for so long le, still hafta take care of mi.. He reli dunno wat to do.. (disappointed..) He slept on the way, and i juz kept crying..
He was hungry, so her bought sumthing to eat at the interchange while waiting for his fren..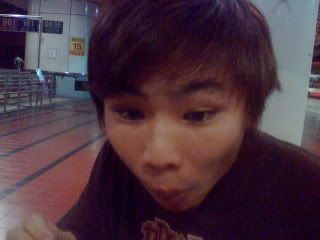 My cute little boi.. =D
I hafta walk hm alone again cos he was rushing for the last bus le.. Although i hate the feeling (cos i'm scare), I hafta do it.. when he left, iu cried at 1 corner, but he still walk back to mi feeling worried..
Sorry baby, u sick le, i still so bu zhen qi.. Haiz.. I'm juz nt strong enuff.. =(
HELP!! HELP!!
Get mi outta this hell job.. Help mi get a new job.. Thankz..
Hope tml will be the last dae for mi if i makle it on Thurs interview.. =D