StUdYiNg Is ThE mOsT hApPeNiNg ThInG iN tHe WoRlD!!
Anna made mi realised tt.. =D Love her lots..
Went sch for proj meeting in the morning.. And i missed the time for the submission of application form and $$ for the youth's chef association thingy.. Hehez.. Anna wan mi to send by mail.. Hahaz.. Tik i'll be too lazy to do so ba.. =X
Hahaz.. Grp meeting are fun with them around.. Happy times are getting shorter and shorter..
Getting ready for sum shots..
Start..
The love among the grp members..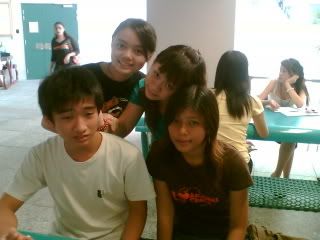 School will be colourless without u guys..
Fun time, fun ppl = happy ;ife, happy Cherie.. =D
After tt, went to meet dearie at 2++ at Wdls lib to study.. I reached at 2.20pm and onli saw her at 2.46pm in the lib.. ='(
Bought a cup of mocha and sit there reading econs b4 she come..
Hehez.. After she came, we ordered Salmon fillet and fries at the cafe galilee... Kekez.. So tan chi lo.. =X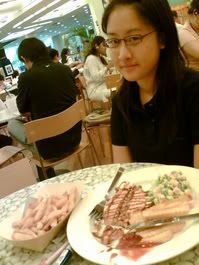 Was doing Biz stat very happily.. Hehez.. Love studying with dearie alot.. Hahaz..
Always Sweet... Kekez..
Hardworking dearie..
Although the time wen the camera is not on her, she was slacking and gg to the toilet.. Hehez..
We study until 8++ i tik, and She kept complaining abt being very cold and hungry.. Hahaz.. (like the matchstick ger sia..)
So we went to CWP to eat.. Walk round there and she couldn't decide what to eat.. She sae dun wanna eat fastfd de.. In the end she still wanna eat Mac.. Hahaz..
Happy meal sia..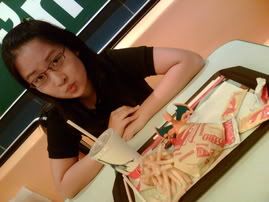 Hoho.. I have wat u dun haf!! =D
While Anna is eating her burger, i did this..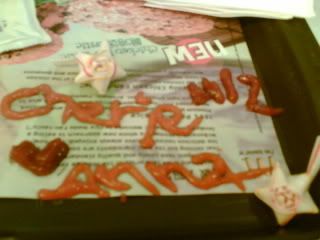 The stars made by Anna and Mi..
I 1st time succeed lei.. Wanna gif her de.. Too bad.. It dropped under the chair, and the crew swept it away.. haiz.. It's mi hu threw it on the floor anyway.. Hehe..
The flying dragon tried to snatch dearie's burger worz..
Luckily we caught him and torture him!!! Wahaha.. =O
Anna: Yeah!! I caught him 1st!!!
Let's see what u're made of..
Mi: Muahahaha.. I caught u too..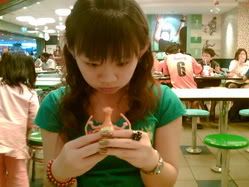 I'll squeeze till u burst.. Hahahaz..
It will be best if we open u up and eat ur heart!! Kekez.. =P
After torturing him, Anna found sumthing cute among the fries..
The "AH BIAN" fries.. Hehez..
Always had fun with dearie.. Thankz for the dae worz.. Love studying with u.. Exams coming le.. Muz jia you ok?! Hehez..
Went home after tt..
.
.
.
.
.
.
.
.
The lonely way home..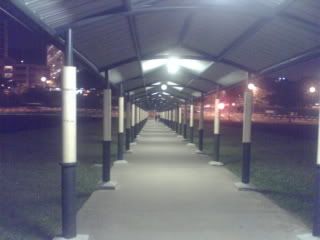 When i gt hm at 10++.. Mum and Brother already slp le.. Nv see themn todae.. Haiz.. Miss them.. Gt time, i'll sure come hm early and eat dinner with them de.. Even though the dinner might be instant noodles.. Even so, mum will made it until very delicious de.. =D
Anna sae she wun mind if i sae this..
"SHE NV BATH WEN SHE GT HM!!!"