Overnight at The Airport..
Lazy to blog for so long.. The reason is obvious ya?
Introducing, Anna, the runaway pig.. Hahaz..
Went for my dental appointment yest, met Anna, Yan and Suay.. They were so sweet to pei mi all the way to Outram Park.. =D Maybe cos after tt, we gg for zhu zha zhuo ba.. Hahaz.. The porridge..
Anna orderd a $8 frog leg porridge.. And i think she finsih it herself.. Bravo, all by herself.. Hahaz..
"Yo sexy babe, i can finish all the legs by myself ok?! Yummy!!"
I decided to take a "Vulgar" pic after seeing wat Anna took..
Hahaz.. The word vulgar is soooo.. overused.. Sorry ah Suay, even my fren Eetien like to use it so often nw.. Wahaha..
Hehez.. Find this Toilet sign very interesting at Chinatown..
We saw a "little" water cooler outside a worship place.. So cool lahz.. At the side and middle of the road..
Went to walk around Chinatown after tt.. Hip huh?? Hahaz.. I kept searching for my lost watch there, hope to get ot cheap.. Nan li zhi dao, at the last watch stall in Chinatown, i found it selling at $22!!! Haiz.. Consider ans consider, finally bought it at the price of $18..
Whew!! Finally no need to bother about finding my watch le.. Hehez.. Muackz..
Abt 7++pm, we left Chinatown and walked a long way to Raffles Place MRT station, met Eetien at Tanah Merah and headed towards Changi Airport for the night studies.. Hahaz..
He didnt had anything for dinner, so we went to Mac.. And wow, he ordered 2 burgers.. Hehez..
He sibei act cute la!!
But on a side note, he has freaking nice eyelashes which gers dreamt of having.. Hahaz..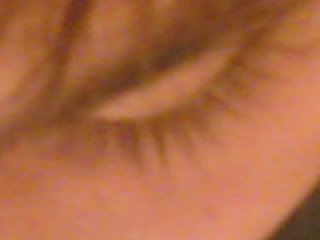 Guess i'm cold ba.. So i wore his jacket and took his bag and act "hip".. Wahaha.. And he held my bag like a sissy.. Opps.. (sorry)
The night lights of the control tower is so memerizing..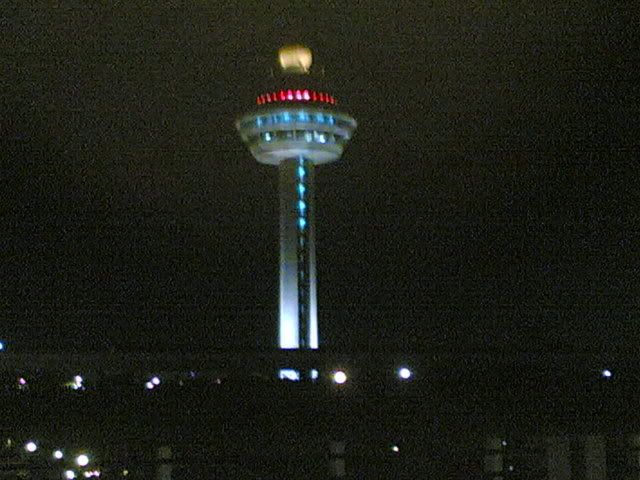 We walked around terminal 1 & 2 for abt 2 hrs, b4 we decided to settle dw at Burger King at terminal 2.. Cos Mac say..
And Starbuckz was full-hse.. Haiz.. So we juz bought 2 drinks and started our "revisions"..
Abt 4++am, we went over to Mac cos he spilt the Caramel (Starbucks) I juz bought in BK.. So i suggested of running away.. (Oppz.. Please do not do this!) Hahaz..
Went to viewing hall awhile to see wth there's anything interesting there.. Hehez.. He wanted to go toilet.. Hahaz.. But on the way there.. We saw this "horny" fire extinguisher.. Hehez..
Very "vulgar" hor? Kekez..
I was so bored and saw Singapore wasted so much space in the airport, so i decided to make the empty spaces useful, for my photo shoots.. Hehez..
He sae i look like a piegon in the pics.. Hahaz.. And there were no need for facial expression because he cant capture it.. Kekez..
When the airport announced "The police will remove any unattended luggage", he told mi the police will remove unattended "children".. So there i was at the 1st pic, acting as crying lost child.. Hahaz..
Todae had a great "frequency?" with water cooler.. Forgive mi for being mountain tortoise, bit it's the 1st time i saw "Sensor (auto) water cooler".. Hehe..
Went to Mac after tt and ordered our "early breakfast".. Saw his frens whom we saw at BK earlier on, so we sneak to move to the place beside them while they went to smoke.. Hahaz..
Our food came, and he gt us all the sauces available.. 8 sauces in total!!
A bit crazy ya? =P
I admit I act cute in this picture too..
His tired fren..
Wahaha.. Slp aso can be so funny.. Kekez..
His frens happily went off to catch the 1st bus cos they were too tired.. Mi still energentic.. Hahaz.. But in the end, we still went off at 6.20am..
Took a bus to his hse and see his dog.. Wahaha.. I told him i'm scare of dogs.. But in the end, the 2 dogs turn out to be so miniature and obedient.. Hahaz.. Soon after, i play along with them while he went off to sleep.. Hehez..
Lucky is so cute when she play with the ball.. I think the character of us is very similiar.. She very hyperactive, and of cos, her actions made ppl think tt she's crazy.. Hahaz..
I think SPCA will catch him if they saw this animal abuse pic.. Hehez..
Hehez.. The day ended quite happily lahz.. Hahaz.. Hope tml can study better and be well prepared for my Biz Stat paper.. Haiz.. Everyone Jia You!! =D Muackiez.. ^_^