Comm Skills Meeting Role Play!
This morning (5th Feb) 4.17am.. Someone by the name of Aaron Ang Jit Wei promised or rather agreed to treat mi Fish & Co. if i got 3 distinctions out of my 6 modules in my cos of study.. Wahaha.. Den can ask Mirta join in the fun le.. Whoo.. =X
This morning did our Comm Skills Meeting Role Play.. Hahaz.. Dunno y todae nv take much pics.. Hahaz.. None of the pic have mi or dearie's face..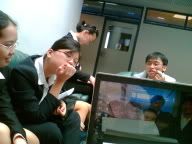 Cedric's grp slacking outside the meeting room since 9++ and their time slot was changed to 11.30am.. (i tik)
So the chairperson of the meeting was very free, nth to do.. So He....
Copy biz stat from Samuel's work.. Wahaha.. Dirty Act.. Hehez..
After my grp's presentation, my grp members were keeping the teacups and teapot back into the bag..
Xin Ku Le!!!
Didnt do anything special yest.. After meeting, went bis park to eat.. So hot sia.. Wahz.. 1st time feel hot with formal blouse.. Hehez.. Saw a red jacket shuai ge, which make Vic and Mi put our shoulders tgt and discuss at the same time.. Telepathy.. =D Hahaz..
After POM lecture, YAn, Ting, Suay, Anna and I went to TM to eat LOng John Silver..
At the bus stop..
"Hi, My name is Samuel Lee Rong ZHU!!"
Yan found a new way to take pictures.. Crop them with ur fingers.. =P
After..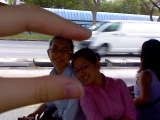 Before..
Haiz.. Muz at least take 1 pic of myself to post ma.. If not no face.. Hehe.. This pic can save my "face" le ba.. Hehez..
Took it on bus with Yan's fone.. Anyhow click de worz.. hehez..
At the Long John.. Yan think her hair is messy, so she comb.. But her expression horz.. Ermm..
Had our Comm Skills test todae.. Everything sucks.. Hate it.. Dunno how to do at all.. How to get gd results sia.. Sob..
After the test.. We waited for Anna to finsh her grp's reflective thignby with Mdm Ling..
I swear this is a candid photo..
After that, force the peeps to make this pic a.. Success.. ( not very actually)
They both treat mi very gd lehz.. I dunno hu to choose, so decided to choose Yan before breaking up with Anna.. Haiz.. So confused now..
Scare break with her den no chance take pic le, so muz seize every chance..
We went Engine Bread Board to eat, wen we are abt to go, Yan challenge Anna...
Of cos Anna win la..
During Econs lecture todae.. I'm quite happy lahz.. Hehez.. No heart to listen during at the 1st part.. Hehez.. His "diamond" ring reli very nice lo.. I want 1 aso.. Wahah..
After school, went over TM walk walk b4 meeting my Jap grp mates for pract.. I bought this..
Wahaha..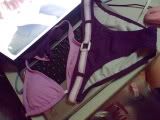 I like.. I think nice lahz.. But juz nw Dearie sae ok onli.. Sob.. =D
"When things go wrong and when sadness fills ur heart, don't be afraid to close your eyes and look through the telescope using your nose.."
When u are nervous before presentation or public speaking, try PVI.. Penis Vagina Intercourse.. This is decent.. Cos it's from Psycology lecture..