Airport With Anna, Yan & Royce..
Wa.. Juz now went to run around Wdls at 10.25pm to 11pm.. Wa.. I'm so lousy lohz.. Now muscle ache like siao.. Sob.. Tml sure gt difficulty dw the stairs de.. ='(
Yest went to airport.. Anna dearie sae wanna eat Popeyes la.. Stupid.. End up go there she eat fries nia.. Waste $$ and time.. Ben lai can eat Sakae de lohz..
Oh ya.. On the way there.. I took this..
My phone lei.. *=D*
When Royce and I arrived at Popeyes.. Anna took so long to come la.. Den come le still hide at the back look at my wallpaper lo.. (mi & her de).. After that i change the wallpaper to the obscene de..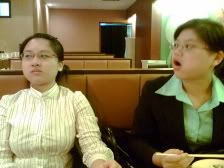 Wahaha.. Den Royce dun dare to look at it.. Scare ppl KNOW he pervert lohz... Haha.. Wen we go and order our fd, leaving Royce alone at the table, he close my laptop juz to prevent ppl from misunderstanding him lohz,, But he very kind lahz.. Help us take picture.. Hehezz..
Threesome..
Look like animals hor? Hehez..
Anna sit in front of Royce juz eat bread asnd fries nia lohz..
After that, went to walk around airport lohz..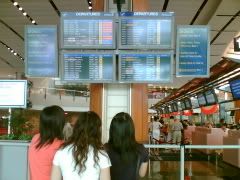 I reli mountain tortoise lohz.. Never see b4 mahz.. =P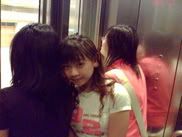 In the lift to places...
Like Fairprice.. =X
Trying to put 2 lollipop on her head.. But the lousy photographer.. Spoilt it..
Future housewives..
Bought this there.. Hahaz.. Childish mi.. Todae hui ting sae the ear very vulgar lohz.. Never see wat she wear todae aso..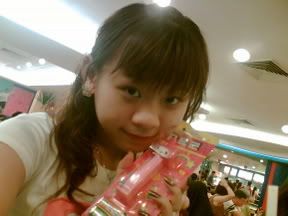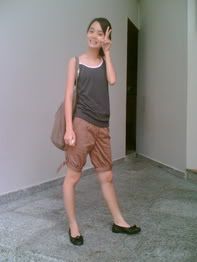 On the way to the MRT station..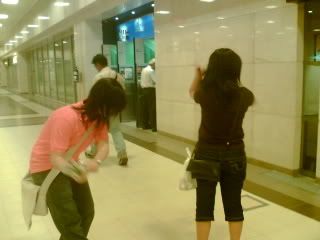 Yan trying to smack tt "seductive" butt with her newpaper lohz..
Yan saw a trolley lying on the side of the path den she was determined to put it back to it original place..
Yan rush into the lift to save her trolley..
The 3 ppl like.. ermmm.. stranger...
Anna: Ee.. I gt nth to do with tt ugly metal wheely thingy..
Royce: Crazy woman, push tt thing back for wat? Waste my Anna's energy..
They decided to take a bus to East Coast.. Hehez..
On the bus to East Coast..
Dunno why Anna's leg open so big lohz.. Maybe saw her partner ba.. "Hello!"

"Hi, pretty Boobnanamato's leggy.."
We saw this very high-tech thingy outside the lift lahz.. Sorry.. Shua Ku..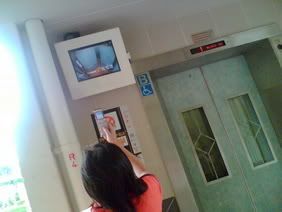 Yan is another shua ku de.. Kekez..
You noe wat?? We end up gg there to sit at MacDonald drink water onli..
Yan act paper as dice to shake under the cup lohz.. Stupid act.. hehez..
Went to play pool again.. Hahaz.. At a non-smoke free place..
She tried to use cue sticks as chopsticks to pick up the ball lahz... So funny.. Till now, i still think it's hilarious.. Wahaha..
Ah yan jia you!!
When Royce is playing..
Anna: "Lao Gong, dun throw my face hor!"
Walking back to Marine Parade..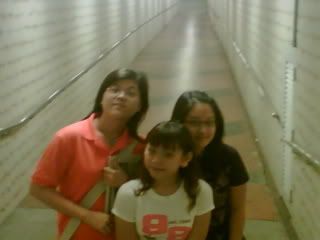 At the underpass..
Finally found this wen we walking to the bus stop..
Boarding Paradise..
Anna and Yan took a bus to Tamp i think.. And i took a cab with Royce to Wdls b4 he heads home.. Sorry..
Todae, A.C.T very wat lahz.. Nei Hong lohz.. Vic scold Sam and Hui Ting, den Ting insulted Vic so many times lahz.. Haiyo..
And Hui Ting press the close button wen i was walking out of the lift.. -.-"
Special corner..
Happy Moments For You & Mi..
Skytrain from terminal 1 to terminal 2..
At MacDonald's.. Anna look so shy.. Cute sia.. Hahaz..
Playing Pool..