Met Anna 2.45pm at CWP.. Cos i was late.. Was supposed to meet her for her tutor on my bis stat de.. But end up walking around cwp.. Hehez.. She missed her G200 blouse, out of stock le.. Kekez.. Tt teaches her to treasure things wen they r there.. =P
Went MacDonald's at Civic Centre to eat ice cream, cos dearie craved for sum.. Hehez..
Forced Anna to take this pic for mi de.. Hehez.. finally..
Anna todae super HUA CHI loh.. Saw one guy queuing at the counter den she sae the guy very sweet.. Wat eyebrow very nice all these.. Den kept asking mi to take pic of him.. Pervertic actions loh.. Den failed so many times.. Wen we were gg out, i tried to help her loh.. I reli wanted to focus on his face de lohz.. But turn put to be focusing on..
.
.
.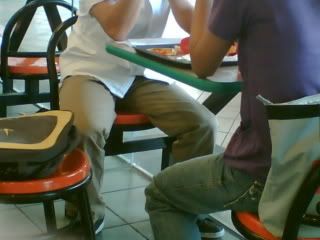 U know ah, take secretly de lehz.. So not my fault lohz.. Hehez..
After that, we tried to go library study, but there was reli too crowded, so we juz went to borrow sum books.. Haiz.. But unfortunately, Anna saw her old love.. Haha.. A guy from IJ.. Basketball captain worz.. Den she kept asking mi to take pic again lah.. I off my fone due to low batt le, she still like tt.. Sob.. Not understanding at all de.. ='(
She's juz crazy over guys..
We went to Mos Burger aftermath, found a place and sat dw.. But she starting hunting for guys again..
Her act "as though nth happen" face.. Actually she's sulking b'cos no target was found..
After sumtime, she finally gt sum response.. But she ask mi to turn behind.. And ask mi wth tt guy head is small.. Hahaz.. I turned back to Anna and couldn't stop laughing.. Hehez.. Den i ask her wth wanna take pic anot.. Tt's the onli guy she dun wan any pic to be taken.. Hahaz.. But wen he leaves, she asked mi to take his pic agin.. But i didnt want to.. And she seems to be upset abt tt..
Can see tt she is trying to be angry with mi.. Cos in her heart, she dun bear to be angry with mi.. She loves mi too much le.. Hahaz.. =X So shy..
We explore cwp to find shoes, but as usual, we didnt make it.. Hahaz.. Went hm aft tt lohz..
Tml still gt pom make up lecture frm 11-12.. dun mind lahz.. But jap is at 5.. So sian loh.. Absent last week le, think better go tml.. Haiz.. Hope Anna will pei mi baz.. ^_^