Todae very tired lo.. Bt still decided to blog, cos scare next time lost the feeling of yest le.. Hahaz..
Done with our POM presentation and skit yest.. Had a fun time rehearsing in the library from 11+ to 2.. Hey, we gt ready a wonderful skit and dance within a few hrs loh.. Hehez.. So proud of ourselves.. =X
The video presentation is on Sak's blog, hope she dun mind u guys go take care a look.. ddollmakerr.blogspot.com..
Lazy to sae wat happen lohz.. Juz share sum pics..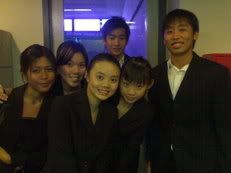 A.C.T Couture Dance Academy Management..
Presenting the ultimate flasher gay.. Samuel Lee..
The couple is not dancing, they r fighting for the "tie the tie" " chore.. Hehez..
The Act Cute Mi.. Hahaz..
At least i admit i act cute lo..
Taken after the presenation with Joyce and Hui Ting.. =P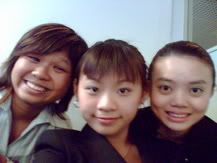 Daniel, the winner of the Transformed guy..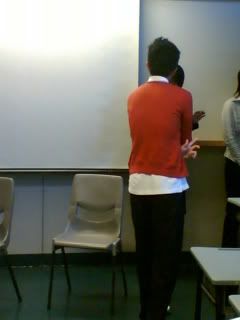 Gay lo.. Hehez..
On the way to the bus stop..
The cute "Manager" of the dae.. Hehe.. Tall Jing Jiang worz..
Purposely wanna squeeze the guys in the pic b4 they rush to board the bus..
Victoria, Hui Ting, Dearie and I went over Century Square to eat Sakae Sushi..
Took many pics lahz.. But sum were reli very "unpresenatable" lohz.. Hehez..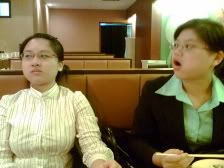 The ultimate BOOBnanamato..
Cam-whoring.. =X
Went home at abt 7 ++pm lohz.. Wahz... So full!!
School release at 1pm todae, but we slack until 3+ den Hui Ting, Cheng Yan, Joyce and Serene and I went to TM walk walk again.. Haha..
Found 1 super nice earring at Helen.. Hahaz.. $14.90 sia.. I cant afford lohz.. Sob.. ='(
Bought my nice butterfly clip and earring n rubber band.. Hehez..
Went to Toy'R'Us to "shop shop".. Hahaz.. Bought water bottle.. We bought 8 sia.. Hehex..
Crazy housewives lohz.. Hehez..
Wanna see the COOL housewife ma??
Cheng Yan found out that our "fren" no childhood, every toy aso wanna touch touch play play lohz.. I gt evidence!!!
Gt sum pics of Serene and Hui Ting wear tiara and hold magicwand de.. But in Yan's phone.. Hehez..
We were like playing with the Starwars "lightsavers" den can extend out de.. Hahaz.. Should take picture of tt lohz.. Cos like gt 1 part 1 part stick out de, Serene's blue "sword" was stucked lahz.. Left 1 part of it outside cant go in.. Den very obscence lahz.. She push in, cant go in, she try to "shake" it off aso cant.. Den we juz stood there luffing and crapping abt dirty stuff lohz.. Hehez.. =P
Anna dearie saw 1 blue-pink creature of Barbie and i was like,"it's so ugly la" den wen Yan found out tt it can vibrate, Anna gt excited again.. Hahaz.. Yan sae :" Muz wash regularly horz, if nt very unhygiene.." Hehez..
Todae during Biz Stat lecture, mi n yan ask Anna what will happen if we touch her breast and sayang at the same time, (cos Anna sae she will be h***y if ppl sayang touch her back ma.. Opps.. =X) Den she sae.. : "wo hui feng diao!".. Hahaz.. As in she will be drive crazy! Hahaz..
So obscene la.. Kekez..
Had fun todae.. Tml is TTO test le.. Hahaz.. Didnt even read through lahz.. But open notes ma.. Hehez.. Wish mi gd luck lo.. Hehez..