Long Dae out.. My feet so Pain!!
Went to sch to "help out" in open hse.. Do head count frm 11-1pm.. Damn sian but the skit so funny n interesting.. Especially the law one de.. Found the gy i can look forward to in seeing everytime i go se le.. Hahaz.. He wear formal so shuai n man lohz.. Hehe..
Take this kinda pic again.. I until his shoulder nia.. He so tall.. 175 maybe?
Maybe he gt gf le.. Kind and gentle de.. Sporty and talented, hardworking ger.. Whoo..
After tt, went to pavillion play pool with Royce.. Pulled and begged Anna so long, yet she dun wanna pei mi.. So sad lohz.. So i went in for a few game.. WOn 2 game out if 3 cos hs fren damn pro lohz.. If he start the ganme den i no nid start de.. Todae damn bad skill lohz.. Sob.. But tyco, Royce went in the black ball.. Hahaz..
Met Man Jun at 3++ at Wdls den we took 960 to Bugis SHOPPING!!! So hungry sia.. So we went to eat SWENSENS! Ah.. So long nv go le.. Hehez..
We ordered so much things la..
So much things for two young gers.. Hahaz..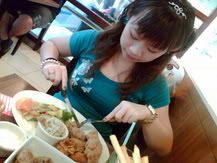 The hungry barbarians.. =P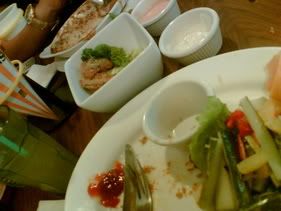 Finally ate up our stuffs.. Hehez.. Two bloated gers now.. (Bad descriptions..) Hehez..
The manager Firdaus damn cute.. Hahaz.. So polite.. Man Jun scare him some more wen he serve us our sticky chewy chocolate ice cream w/o asking us 1st.. Hahaz.. Man Jun looked so shocked den the manager juz put in back in the kitchen.. Hahaz.. =P
Saw this super nice and cute wallpaper at M-industries.. So like it lahz.. Hope my room can haf this colour too.. But i muz have very bright lightings lohz.. If not damn dark liao.. Hehez..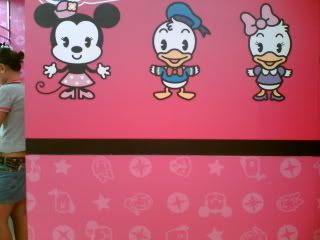 Walk around Bugis Junction and decided that things there are boring n expensive.. Thus we headed to Bugis street.. Tt's where mi and Man Jn spent all our money on!!
Hahaz..
Tada!! What i've bought..
I helped her paid for 1 very very nice and cute sling bag.. $29.. I like it so much.. The colour reli very nce.. Green de, flowery, but reli very nice.. Gt cance sneak into her hse, i take pic of it.. Hahaz.. Too expensive for mi le.. Hahaz.. =P
Go out with her sure spend alot one.. Hahaz.. But i'm happy lohz... Hehez.. She spent so much lahz.. We were force to go hm.. Cos we are left with juz coins by 10++pm... Hehe.. Bought drinks for the thirsty two.. And headed back to wdls.. The 960 were so crowded tt we hafta stand till Bukit Panjang.. Not forgetting to lamn n joke on the way.. Hahaz.. Even transferred my things to the new bag.. And i gt teo bags n 1 paper bag hm.. Hehez..
By now, She already become my sec DARLING liao.. ( u tik Anna will mind anot? =X) Hahaz.. Den the law guy is Lao Gong? Hahaz.. JK.. Think too much le.. Hehez..