If U Are Sad, I Won't Be Happy Either..
Do u noe tt Missy Pinguotuo??
You are always the one hu tell mi what to do, but wen its ur turn, u're at loss..
I noe u will be reading this, so let mi tell u, no matter wat u do, we''ll be here for u.. Ya, the decision is urs to decide.. Any outcome, u will haf t bear the consequences.. I've been through tt, and i've heal, i dunno wth it ur turn anot, but after sumtimes, everything will be alright.. You are starting work soon, let it be a new chapter beginning for u.. No matter wat ir means, we'll trust u.. We'll always do.. Know wat u wan, and predict ur future with ur decision.. Not everything is fated wen in fact, u can decide ur destiny.. I'm not gd in words, but i hope u noe, u gt us.. It'll be difficult, but things will pass..
Webnt sch todae at 11 for POM make up lecture, thought i go there so i wont missed out on impt things, but end up chatting in the LT.. Hehez.. Failure sia..
Bus Stop aso can take pic de mahz.. Hor Anna??
Went to Bugis with Anna & Aimee and gt lost at "dunno where" and gt up a cab to accompany Aimee to her destination.. Although shr's not in gd mood, Anna & I still would like to entertain ourselves with the pics, and first visit to NAFA..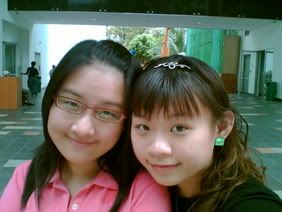 No human there, Anna aso wanna take, ask mi send her summore.. Haiz.. At least ask mi pose ma.. Make it more meaningful.. Kekez.. =X
After that, decided tt Aimee need to cool dw, and Anna desperately needed a pair of shoe, we went Bugis Junction instead of the intended Bugis Street cos the sun's killing..
U noe.. Ermm.. Find chance tae pics ma.. Hehez.. Nv try taking it in washroom.. Nicer horz? Hehez..
After tt, we went to neoprint shop to take...
Artistic Photo with my phone.. Hahaz.. Nicer than the one u pay $10 for.. Muackiez..
Anna bought an ugly pair of shoe after much searching and we went to chill at Coffee Bean to tik of a solution for Missy.. Went home aftermath.. I took bus hm and they took train..
And to reward u for looking at my blog, I''ll share with u the most beautiful thing tt i've seen todae..
.
.
.
.
.
It's her SMILE..
Although it was posed, it shows that Aimee is a strong ger.. Even a weak and emotional ger like mi could overcome tt thing.. Y cant her? Right? This is what we wanna see everydae on ur face.. Get it Missy?
Muackiez.. JIA YOU!!!