Woke up at 8++ todae, den washed up and went to SK to meet my uncle den go relative's hse.. This yr, Aunt and 3rd ncle nv cm with us...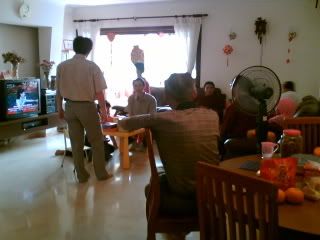 Typical family gathering lohz.. Hehex..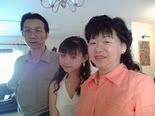 Mie Daddy and Mummy.. So sweet!! ~*
When we took the LRT back to Sk, i saw..
Opps.. Dunno y will i post this lohz.. Bt just wanna share lohz..
Reach Redhill and my relative live at a 40 storey flat lo.. Hahaz..
The scenary is likes so... breath-taking lahz..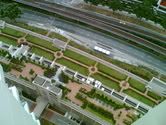 Ppl will syre come here commit suicide de.. But i think after looking at such a nice scenary, evrything will be fine.. Cos he/she will know tt, actually the world is still very beautiful.. Hahaz..
I'm becoming more & MORE ARTISTIC le.. Hehez..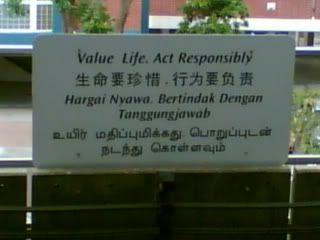 Finally gt a chance to take a clear pic of tis le.. Can relates to the tpic abocve aso.. Hehez.. (commit sucide thingy)
After tt, went to youngest aunt hse to eat late lunch+ early dinner at 2++.. Tot can meet Anna dearie de.. At Boon Lay aso mahz.. Den is like 3 blk away but muz cross a big road lahz.. So n the end nv.. Haiz.. Aunt ordered KFC for us.. (OMG, KFC again) Hahaz.. About 4.30pm like tt, took train to grandma hse at AMK.. The journey is like damn long lahz.. My whole family of 4 juz slp tt.. Hahaz.. Hu cares abt face wen sum1 is so tired..
Leave there at abt 7++, parents wanted to go Hongbao River at Narina, but i told them i was too tired, wanna go hm study, but den, Wei Long called and ask mi meet im at CWP, den i juz agreed lohz.. Hahax..
The place was so empty lahz.. As in 1 part of da place.. hehe..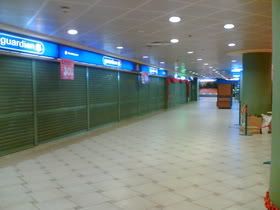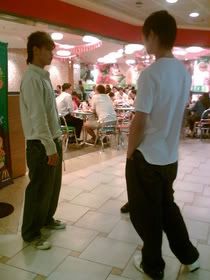 Anyway, he looked kinda "SEXY".. (Not tt kind which i will be interested in)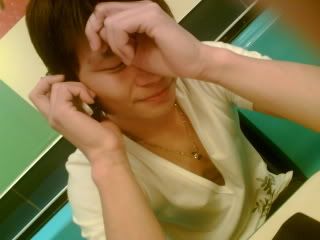 The best pic is da 1 which shows the least of his face de.. Hehez..
Jerome came and he showed us sumthing.. Haiz.. Which makes us wanna do it soooo much lahz.. Hahaz..
.
.
.
.
.
.
.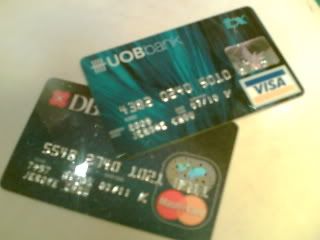 Must go find out how to make le.. Hehez.. Both of da card!!
Zhi Xian joined us not long after wen the 2 guys were eating at Long John.. Haiz.. He sae i'm the 1st, cos my dark circle is the darkest.. Haiz.. Saddening lohz.. ='(
At Wei Long hse..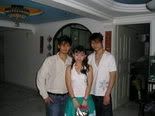 Jerome, Mi and Wei Long respectively.. =D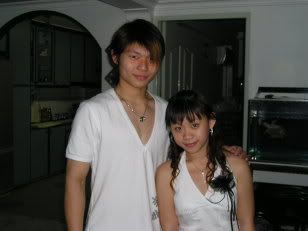 Think look ok so i post lohz.. Hehez..
Decided to go Jerome's hse watch movie after so much slacking in 1 corner.. Haiz..
Waited at Zhi Xian's void deck, and it becm another chance for the guys to take pic le lohz..
Time to feed the hungry female readers.. (Althought they nt super yandao lahz.. Juz bear with it lohz. Kekez..)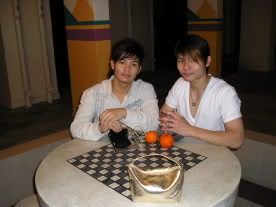 Zhi Xian saw the pic le sae my bag look like "yuan bao" lohz.. Hehez..
Act cool..
Picture look da best wen they are headless.. Hoho.. =X
Jerome wanted to take a pic with mi, which requires mi to look natural.. But i dun understand, this pic look natural mehz? Hahaz..
Watched "Exocism of Emily Rose".. So boring.. Not scary nor interesting.. Bore mi ti death le lohz.. Haiz.. Sian.. I talked on the fone, while the guys..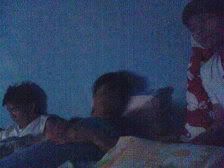 ......
Went hm at 2am..