Corny Gers.. Cruel Lamb HunterS..
After Commskills todae, Sak, Sam, Ting and I went to opp sch to "eat".
Before tt, we slack in sch a whil, so Hui Ting and I decided to ask Sak to help us take a picture against the bright background.. SAk take a look at the phone and said.. : "Too much exposure"
Sam laughed at Hui Ting and exclaimed too much exposure.. Make Hui Ting wear her ugly, gay light purple jacket in the opp way foe the whole day la..
The meaning of "too much exposure".. The sun thingy..
So wasted, she wore till so shu nu todae lehz.. Dun believe? Let u see.. The pretty Hui Ting..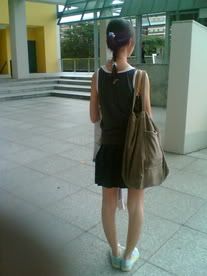 Ermm.. Maybe she decided tt this is the best view to take her pic ba.. Kekez..
At Ang Keong.. The coffeeshop..
Sam ordered Laska and surprisingly, Sak ordered lamb chop.. And it was served right before Ting's eyes.. The real life human meh.. Hehez..
Hui Ting took out her "LAMB" to show Sam and Sak their cruelness.. But ti no avail, Sak contunue cutting the lamb and Sam continue snatching from Sak, of cos i join in the fun.. Hahaz..
The guilty "innocent" Sak.. Hehez..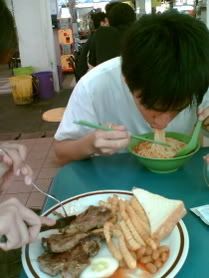 The cruel couple ate happily as though Hui Ting is "HUMAN".. Hahaz..
Just den, the meh meh wanted to end his/her life to oin his/her partner..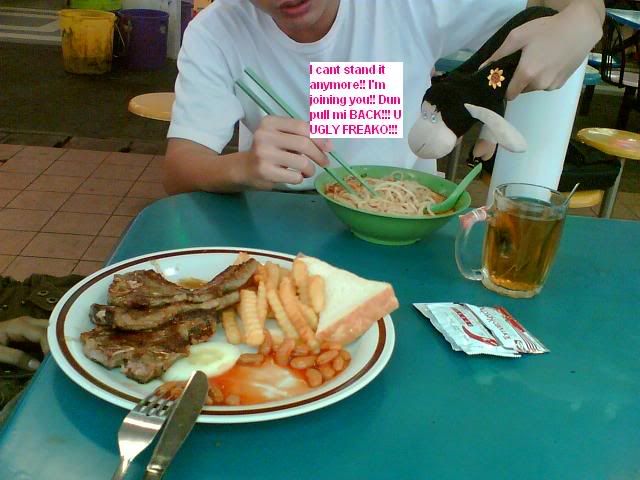 Jie An Shun Bian ba Hui Ting..
After staying for a while, Ting and I went for TTO make up lecture den the class went for Econs lecture.. Hahaz.. Wen sch ends, a few of us stayed to be corny gers.. At the former saffron rm..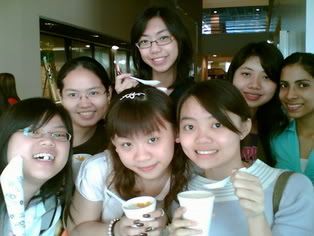 Ended school happily again.. Hehez.. I try to blog everydae cos I blog wen I'm happy.. And i am happy!! Heez.. =D