Anna is F FUSSY!!! ARGHH... Fussy eater.. This canot, tt not nice.. This gt smell, That gt prob.. Hahaz.. But still luv her losta.. Kekez.. =X
Todae dearie ask mi to blog abt the "small" incident tt happened on the dae we went to Bugis we Aimee.. Hope Aimee dun mind ba.. =X
That dae, wen Aimme cant meet her bf, we went to Bugis Junction.. Aimee ask mi to call "him" and see where he is.. (although i cant reli find out where la)
Thanks for trusting mi ah.. Hahaz..
I went.. ( i type wat i tik i rmb..=P)
"Royce ah, where are u? 5 mins le lei"
Den i tik he's like blurred and sae sumthing like "I'm not Royce"
Forgot wth he gt ask hu m i anot..
Anna and Aimee kept kluffing at mi lahz.. Sum more ask mi call again.. Alright loh.. To entertain dem, i took a 2nd attempt..
"Hello, Royce?"
He started to sound blur again..
"Are u Royce? Hello?"
"No..Bkah blah"
"ohh.. ermm.. nvm.. Bye bye"
I nv act awkward, I reli am very awkward lahz..
Haha..
Den i sent an sms saying..
" Ermmm.. Juz wonder if u mind.. be frens?"
Sounded like a despo sec 2 kid lah.. hahaz..
After tt, a unknown no. called mi after 15mins or so.. Tik is his fren ba.. ask mi hu i m.. Den i cup the fone.. =p To play along.. I smsed him to ask hu is he looking for.. Den he ask hu i m.. Bkah blah.. I replied.. "If u dunno hu i m, den i tik u fond the wrg person le.. "
Act innocent sia.. Hahaz.. End there le.. Hehez..
Hey, i'm not a bad ger hor.. Did these ting to cheer my fren up de.. Dun miosunderstand lehz.. hehez..
Todae VERY suay.. My rm door gt locked again!!!! For 11hrs.. B4 i went to shower, the door juz shut close behind mi, i realise onli went i went back to change,.. Haiz.. My clothes, bag, hse phone, hse keys all inside lahz.. Sob sob..
Den Anna hafta wait for mi abt 1hr++ in the library alone till my bro gt back to lend mi his hse keys.. Dum more my hp mempry card aso in it, earpiece aso.. Cant take many photos todae loh..
Fianly met my dearie at 2++.. So ke lian..Did many sums for revision.. But we juz started den she kept moaning hungry le.. Hahaz..(gd vocab used hor?? =X) I told her we can onli go at 4.30 to eat Mac near the lib den cm back study ok? Den she sae ok de loh..
Evidence of our study session.. =P
Eat till 5++ le, den had a sudden urge for pool, den i called my fren to ask wth free to play anot.. Hahaz.. Onli den i noe kpool in CWP close le.. So anna n i went to check wth it is reli close.. Hahaz.. Tts how we ended up in the mall again.. =X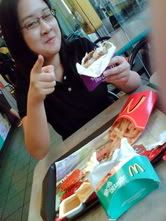 See.. wanna scold mi again.. Sobz.. Bully mi ah laopo.. =X..
Started to ask her take my pic le.. =P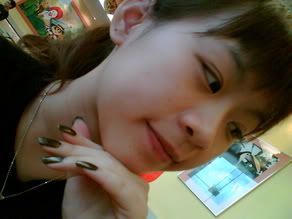 I noe this photo very act n ugly lahz.. But i take myslef de lehz.. Gif sum face lohz.. Hehez..
As usual, although we walked in there contless time, we still stayed ntil 7pm.. Tot of gg to Anna's hse de, cos go hm aso no books to study.. But i dun even have an ez-link card.. Bro's with mum.. Haiz.. MRT standard ticket so ex lohz.. Sob.. Boon Lay like so far aso.. Hahaz.. Went hm in the end.. One more thing, the "street performer" in Wdls MRT station is reli so talented la, sand "lao shu ai da mi", followed by a Canto song, followed by an English song.. Tts not all.. He even sang 1 particular song in like 4 LANGUAGES!! Scary talented.. Hahaz, if u would like to catch his live performances, pls come to Wdls MRT station from afternoon till evening.. he'll be there i sposed.. Fel free to donate too.. Hehez.. =P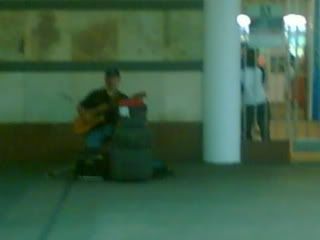 Photo blurred to protect individual's identity.. Kekez.. I'm serious..
Finally gt my door opened at 11.45pm wen my hero, dad came hm.. So i could sit here and blog.. hahaz.. Actually too tired to blog de.. But.. Suddenly.. Found out smthing..
Sum1 in my msn contact told mi tt he/she has bee reading my blog like since so long ago (bowling-marina south incident) and had been reading till nw.. So touched.. Hahaz.. He/she sae interesting loh.. Like reading.. Woah.. Tt motivates mi to blog for him/her now.. Hehez.. Reli very happy lahz.. Like we dunno each other bt he/she still read my daily life.. Happy or sad, my feelings, he/she noes.. Weird hor? Hahaz.. But i dun mond.. Cos i noe, from now on, he/she will onli see happy and cheerful enteries from mi.. Hahaz..
Thank you
T . n. E . c . I . V
... Muz tag mi ah.. Hahaz..