ToDaE iS a BrAnD nEw DaE!!
haha.. Now alone at hm, parents & bro went to Sentosa.. Sianz..
Yest, i had a fruitful & v meaningful day..
I wore my brown top tt dae!! Kekez..
I woke up at 1++pm and went to bedok to find dearde.. we took train to PS to watch Chicken Little at 5.20pm.. The show was v cute, funny & entertaining, but spending $19 is reli rather expensive..
Haha, at my hse bus stop.. So qiao..
On the way dw to first floor in PS, we saw..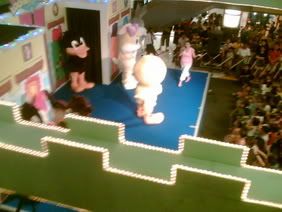 Looney Tune.. Hahaz..
Actually I wanna go Pasir Ris Fishermen's Vilage de.. Hehez, but dearde wanna try Cafe Cartel, so we went to eat there!!!
I counted, we started eating at 8.12pm...
And I finished eating by 8.35pm.. Hahax..
But dearde is still eating..
Hehez..
After that, we went to the arcade we used to go & played a while.. Dearde sent mi home!!! Sob.. So long since he last sent mi hm le, I'm reli reli v happy & touched tt he make an effort to..
Thankz for the dae dearde, hope to spent days like this forever..
Wait for my christmas present.. I wanna make u feel like the happiest guy in the world.. Surprise.. Shh..
Thankz.. I love u.. Forever..