After school todae, Anna, Hui Ting & I went to orchard.. to find ting's bottom..
We took 23 to an ulu place & took 65 to Orchard..
We went to Takashimaya, went to ting;s fav Wh, & they both tried many jeans & anna, 1 top..
I'm not greedy loh, onli tried 1 v v v nice white top & a skirt.. & 1 stupid ugly jeans..
Decided it's too expensive ($29), we walked off w/o buying anything.. Haha..
But i miss my white top nw.. Hehez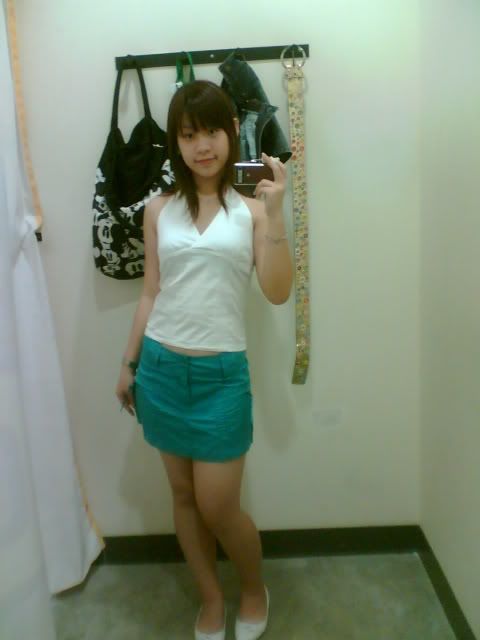 The Top Nice Ma?? My Mummy Say I Look V Fat In This Pic La!!!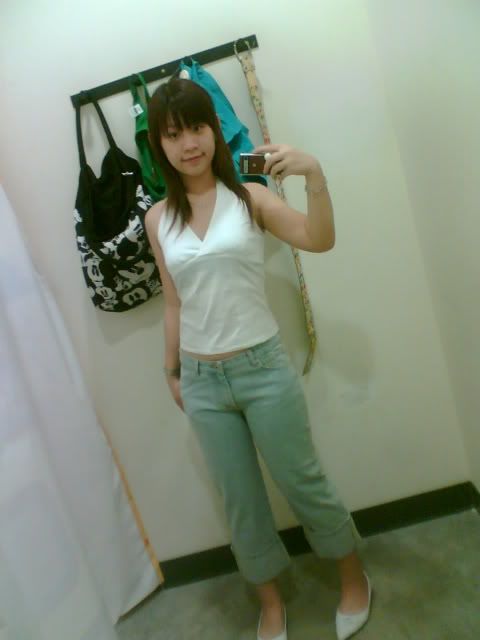 The Ugly Jeans..
After which, we went PS to continue our search.. Bt in te end, we onli went to two shop and spent abt 2 hrs ba.. Hahahaz.. By then, my hp no batt le, so couldn't take any pics.. Sianz..
Hahaz, at ebase, anna & hui ting eyed on a 1/2 length and happily went to try them on, being the ... mi, i try watever anna try la.. Same size ma.. Haha..
Den the "pants" not bad loh, but their is khaki colour, which i seldom wanna wear, so search for the army green one, & decided to prchase it.. Hehez, anna see le aso wan green.. Hahahaz.. But onli left 1 piece of S & 1 piece of L.. I took the S and no more for her.. Hahahaz..
They wanted to go other outlets de, but dun wanna take the risk & couldn't bear to leave to pants alone, all of us bought the identical pant, mine being the diff colour.. Hehez..
After tt, we went to the LP shop, which is onli 2 shop away, and Joyce recm it to ting.. I tik we relki spent an hr there ba.. Hahaz.. Imagine the time at 2 shop can make mi to & fro from TP to Wdls.. Kekez.. Hui ting & Anna try & try & try.. Hahaz.. Both settle for sumthing they wan.. In total, Hui ting & Anna both bought 2 top & 1 bottom.. Hehez.. I save a lot loh.. Onli spent $25.20 on the pants.. They spent $50+++ each.. NO!!! I spent $27.20.. Cos gt 1 idiotic ger wan mi to buy charity ticket!!! ARGHHH!!!!!
Give mi advice on wth i shld by tt top leh.. Hehe.. Very multi- occasion use ma.. Hehez..