Actually we r nt tgt yet la..
Haiz.. Btw, i feel v happy todae, dunno y.. Maybe is cos i wear my new short pants ba.. Hahaz..
Kept smiling & "fooling around".. Couldn't stop toking & moving.. Hahaz..
Today is a brand new dae.. I wanna make everydae of my life meaningful.. =P
Btw, i've been tiking of slimming dw & learn dance.. After a tok with my fren's sis, i aso wanna take up piano lesson at a cc la.. 11 lessons for $184++ i tik.. And i wanna join wgsco alumni.. Hahaz.. Happening right? Yuhoo...
Hehex.. I'm a happy ger k? Mid sem test is in 2 weeks time, i'm gonna work hard for my gd results.. Tml gt jap presentation.. Hahaz.. Muz haf confident cherie!! I can do it!! Hehez..
I'm Optimistic & Bubbly!! n humble.. haha..
Got picz to share.. Hehez.. Enjoy..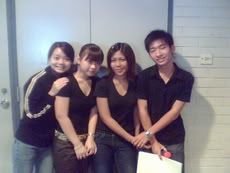 ..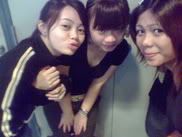 Before meeting Mrs Brown for Comm skills.. She say she's gg to New Zealand le.. Sob.. ='( Se's a gd teacher..
At Noggen Vaz..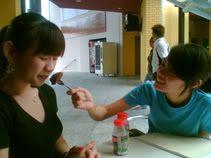 Thankz to all my frens & everyone around mi.. How can i live without u.. Hehez.. Muackiez..
Ps: Take care kz? Everyone kept falling sick recently.. Haiz.. Get Well Soon!!!