*~`TiS iS nOt An OrDiNaRy EnTrY`~*
I reached home at 2215 tonight & took a bath.. Having a cup of holicks on my computer desk, while i type out this blog entry... It makes mi hard to believe wat i had gone through last night wif my Family, & most importantly, My hubby...
Since last Friday or so, my mum & i have decided to have steamboat at Marina South with my family & my hubby, Say Hee...
Yest, i met hubby at 2.30pm under my blk.. We went to have a walk at Hougang Mall b4 meeting my family at 5.30pm at Marina South.. At Dohby Ghout station, hubby's face was like..........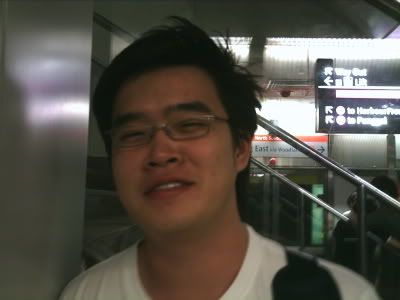 HE WAS SOOO... NeRvOuS!!!!*~
Den we met up with my parents at the steamboat shop & we reli had had a good time eating, laughing & joking...>>>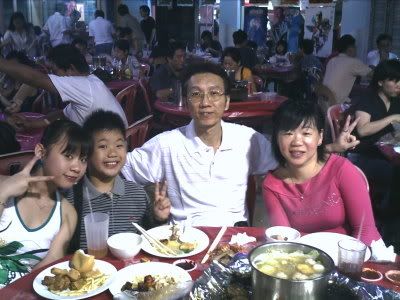 My Family of 4!!!
The new family member.. =X
Hubby & my family could reli get along very well, we haf losta jokes & my parents like hubby alot.. Mum told mi something after dinner..
Mum:"Hey, how u feel after u saw ur "future son-in-law"?
Dad exclaimed: " Very Very Satisfied!!" Hahax.. I was so Happy... =pPp
After dinner, dad suggested to go bowling while hubby & i were so keen for pool.. But since it's the first time hubby is out with my family, we might as well follow their wishes.. We had a really gd time BOWLING..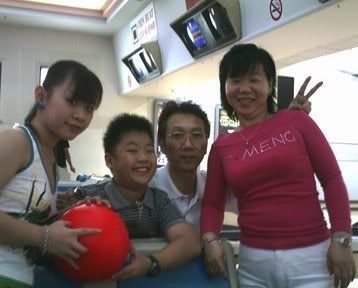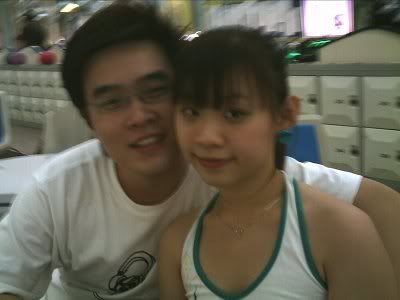 We saw sum1 crawling out for the machine tt "puke" out the bowling ball..
Wen we were playing half of the 2nd game, dad went to the toilet & hubby went to buy drinks after dad came back.....
FOUK!!!!!!! Hubby's bag was gone!!!!
It was a 3 day old Nike BAG!!!
It contain:
1) 2 hp :6260, 3220
2) 1 mp3 :creative
3) 2 ez-link
4) Hubby's wallet, containg his ic, atm card, sakae card, our neoprints & matric card & a lots more!!
5) 2 bunches of keys
6) my make-up kit
7) 1 thumbdrive
8) Nike water bottle
9) New Hugo Boss perfume
I did not bring my wallet along cos i took a small sling bag out.. Poor hubby, tgt, we have lost abt more than $1000!!!!!!!!!!!!
My family & hubby went round the bowling centre to look for the bag but to no avail... Hubby went to ask the counter to take a look at the camera but she said it can onli be done wen the manager comes back... Since there's nth to be done, i ask m,y parents & brother to go hm 1st as my bro have to attend school this morning.. Hubby apologised to my parents , but my parents were the ones felt reli reli sorry for wat had happened... I felt so guilty.. I tik it would haunt mi for a very long time!!!
While waiting, hubby & i went to suspensed our hp line & canceled his atm card..& we called 999.. the 1st time we call this no, & i hope it will be the last!!!
The police arrived at abt 45 mins later 7 they went into the staff room with the manager to take at look at the video, but THE STUPID CAMERA could not capture anything!!! Bastard!!! Den y put tt stupid camera over there?? Take a stone & destroy it man!! ='(( I HATE EVERYTHING TT IS STUPIDLY DONE!!!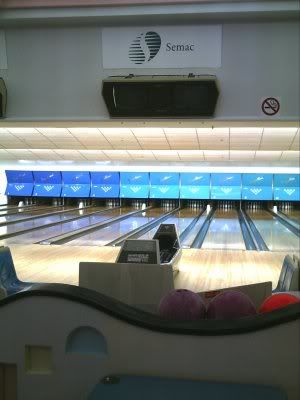 The stupid Lane 7!!!
The rm where they watched e video..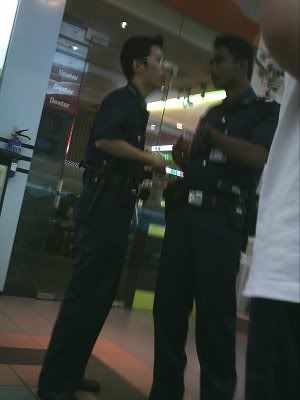 The 2 officers..
What can we do?? we csn onli guai guai take dw our statements with the police officer.. Haiz... (btw, i found out e chinese officer gt a ring similar in design with mine & hubb's!! =pPp) The police left at 0000..
Officer Ashemul taking dw the statements..
There's reli nth to do done by the time the police left, so we waited for hubby's parents to sent us to his hse..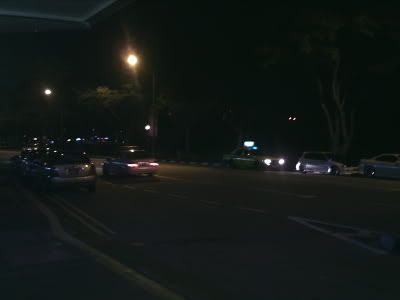 ZOOM>>>>>>>!!!!!!!!!
While waiting, we went to...
PLAY POOL!!! Nth can bring us dw man!!!
His parents came at abt 0110 & opps... his mum na**ed at him for abt 20 mins on the way home.. Sob.. Sorry hubby.. Its all my fault...
inside the car...
We reached his hse at abt 2++ took a shower & slept at abt 4..
I couldn't reli sleep, my eyes was wide open at 0445 & still couldn't stop thinking abt what had happen till 5+++
Finally, we woke up at 11 + & prepare to go to Neighbourhood Police Centre to get hubby's report to do his IC..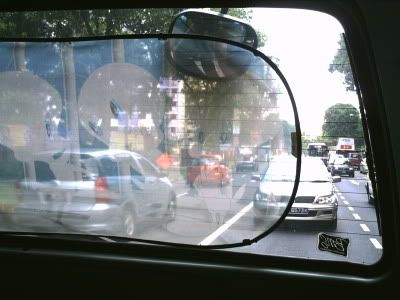 We went...
But the waiting made us (hubby, his mum & mi) so impatient & we decided to have our lunch 1st, den proceed to TM to get hubby's sim card back & finally we went Tampines NPC to get the report..
Dearde look happy after all.. Strong guy!!!
The Police Report...
After tt, hubby & I met my mum to "heal" their pain at a "DIE DA GUAN" at Bedok..
I could see my hubby suffer in pain wen e physician "massage" his left arms, hubby was clutching his right fist 7 i tot (it was so man.. haha=X)...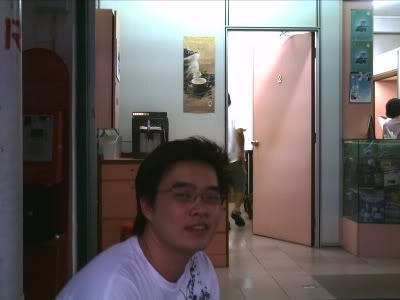 After tt, we send my mum back to Wdls & we waited for hubby's auntie to get his new 6260 at Northpoint.. We bought a pair of Mickey's watch at a vry low price!! Kekez.. So cute please...
Went back Cwp at 2130 & reached at 2200.. We went to cancel hubby's Sakae card & paid $5 to replace a new 1.. Sian..
Finally went trug the bad ordeal.. Trug this incident, i felt the i could love hbby no more.. He's the man i wan for my life.. Dearde, i love u forever.. Never will we leave each other.. Mackz... I LOVE U!!! Daddy, mummy & victor, I love u too!!! Muackiez... Thank you for being by my side all this while...
There's sumthing i had to tell the bastard!!!
I CURSE U BASTARD!!! I THINK U R LYING IN THE HOSPITAL HALF DEAD!!!! I DUNNO Y U WANNA BE SUCH A BASTARD TO TAKE OTHER PPL'S STUFF!!! EARN UR F $$ & GET UR OWN F STUFF!!! WHAT HAD MY HUBBY DONE TO DESERVE WAT U HAD DONE TO HIM!!! CAN U SLEEP WELL LAST NIGHT? I HOPE U DIDNT'T!!! COS U NEVER WILL!!!! I DUNNO HOW MANY TIMES U HAD DONE THIS!! BUT HEY, WAKE UP! U R IN S'PORE, LET'S SEE HOW LONG CAN U SURVIVE!!! HAHAHAHAHA!!! LET'S JUZ HOPE TT E $$ U GOT FROM US WILL MAKE U CHOKE ON WHAT U HAVE USED IT ON!!!! WAHAHAHAHA!!!
written frm 2301 to 0038...